📆 Q1 2022
Prioritize your objectives 🔢
For a better objectives management experience, you can now re-order individual and team objectives from the "Objectives" tab but also from an ongoing review!
It allows you to display your objectives by priority, weights or importance thanks to a simple drag and drop.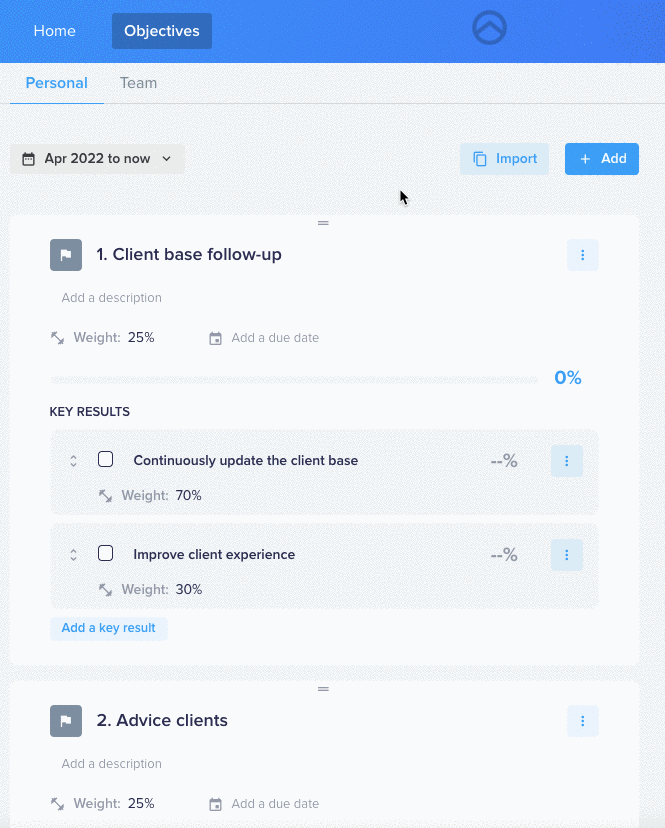 Restrict the review visibility 👀
The admins can now restrict the access to reviews and 360° Feedback to the managers in order to keep comments confidential between the HR team and the reviewee.

To help you keep an eye on your training budget, you can now define the budget dedicated to training in order to monitor the budget spent and remaining by funding source!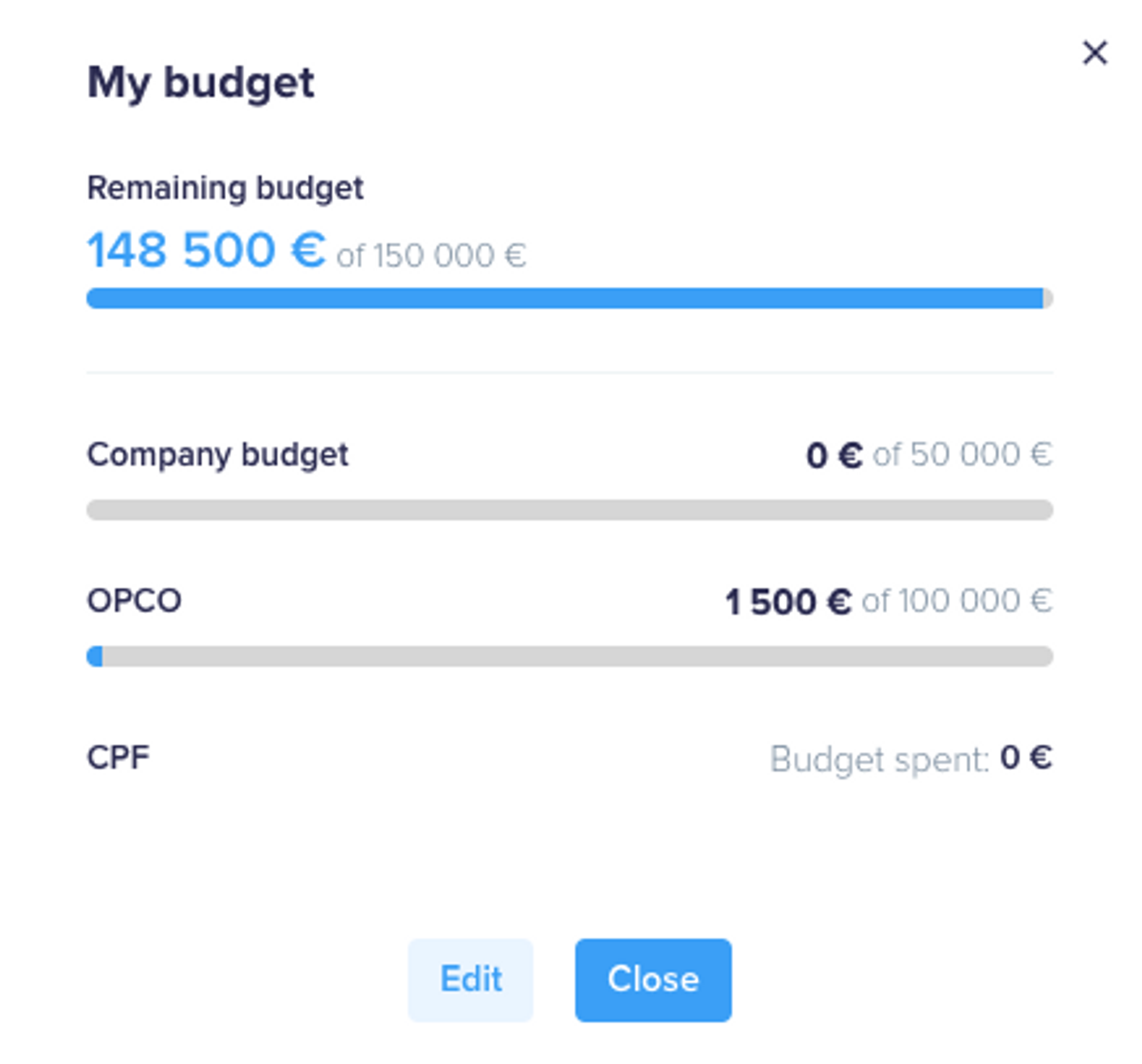 Templates improvements 💅
For a better experience building your templates we have added new improvements to ease reviews completion and save your time! ⏰
Change the order of the answers using drag and drop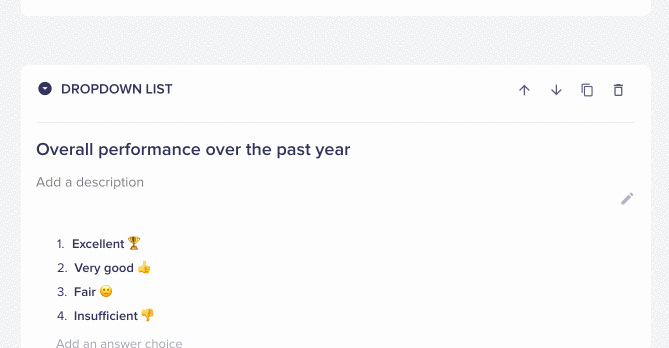 Make only a comment or a question mandatory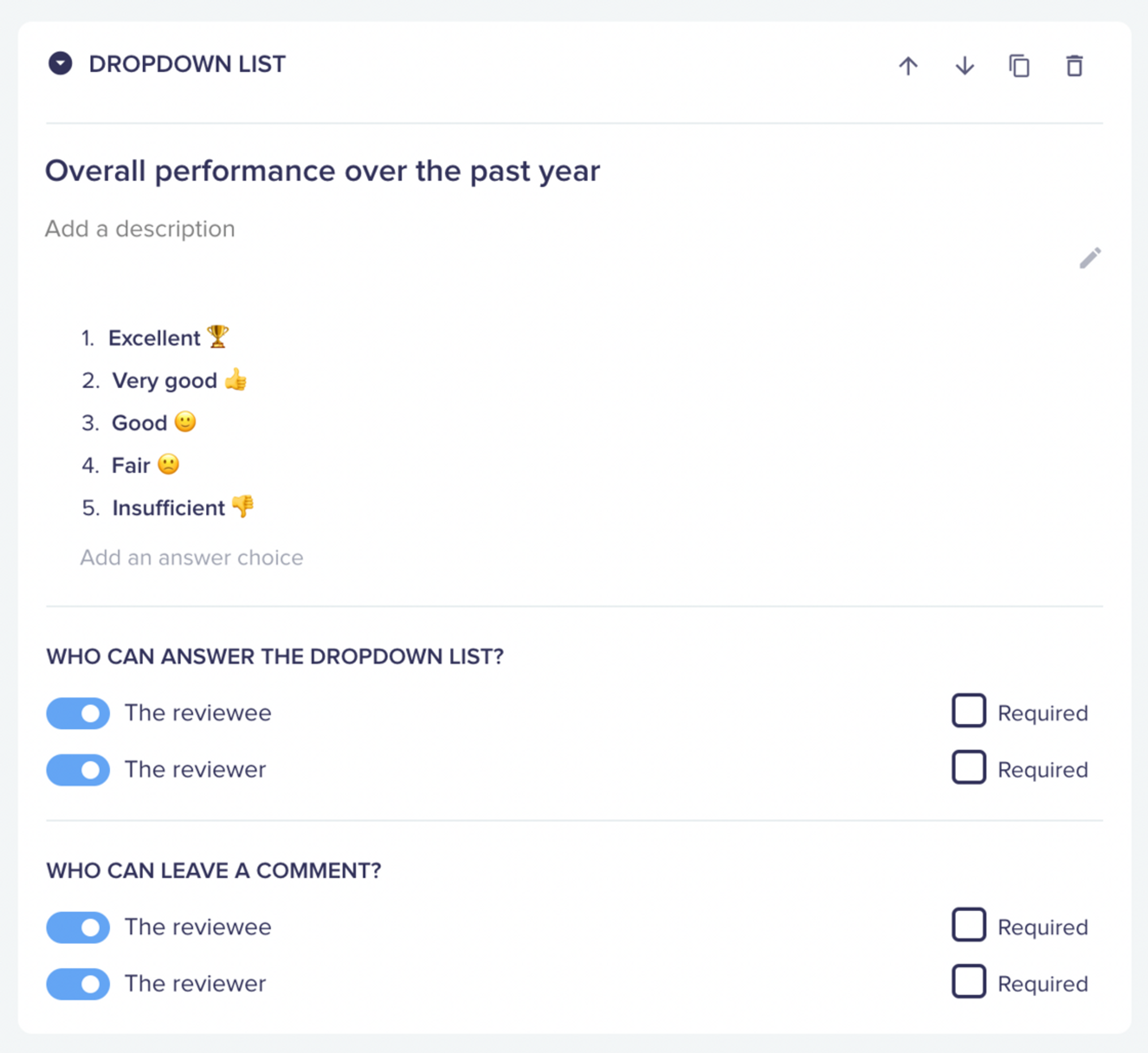 Dashboard for your managers 📊
Your Managers can now track the progress of ongoing cycles to ensure completion. They will also be able to do their own analysis through the Cycle Results view.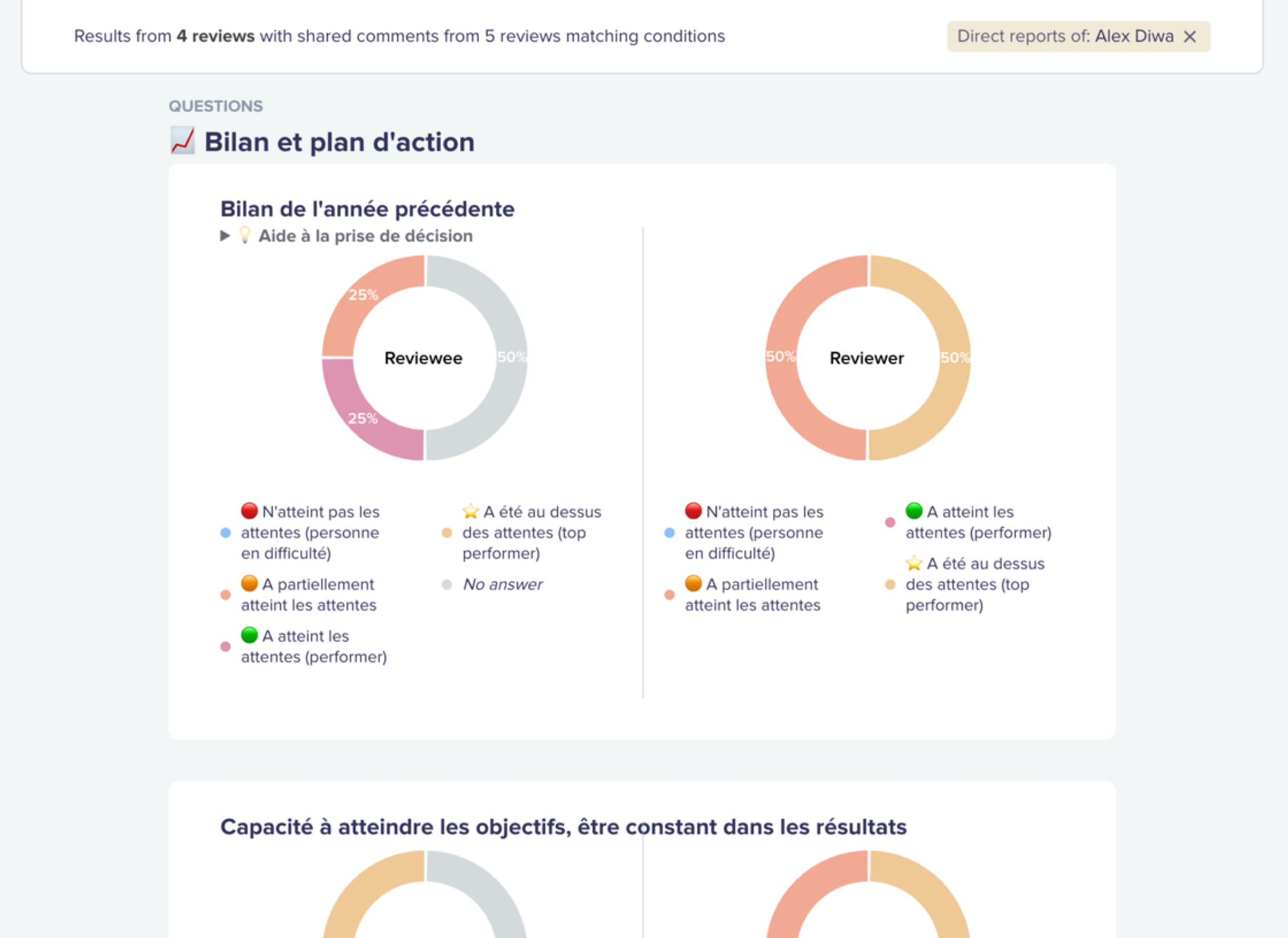 📆 Q2 2022
Invite employees to training sessions 📅
In order to ensure a better participation rate to training sessions and ease training management, admins can now invite employees to training sessions!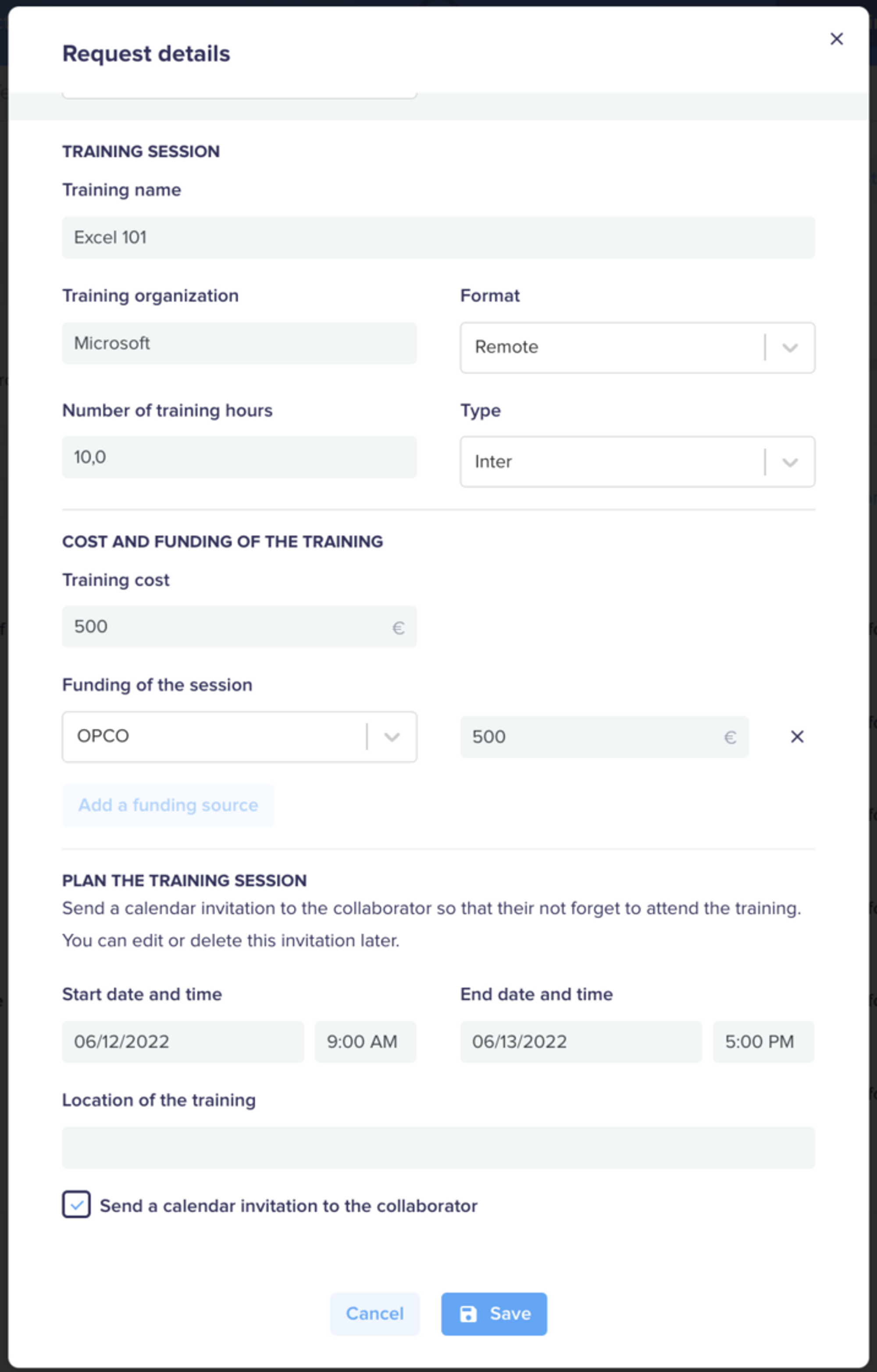 Customize your templates thanks to our text editor 🎨
In order to make your templates easier to understand and more attractive to your employees, you can new customize them thanks to our new text editor. For more information about this feature and the different customization options available, you can check this documentation.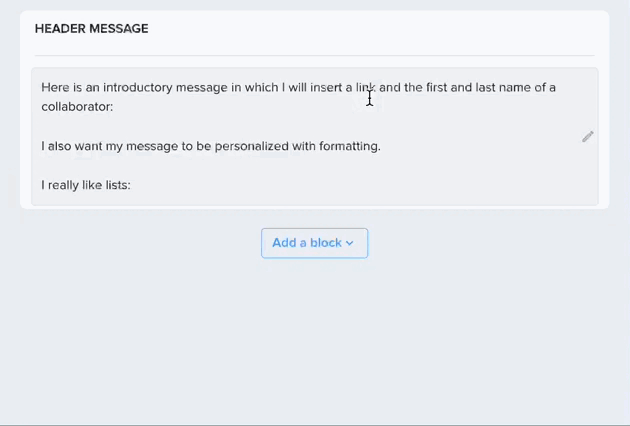 Filter data by answer choices 🧐
You can now see which participants selected a certain answer choice by clicking on the graph legend.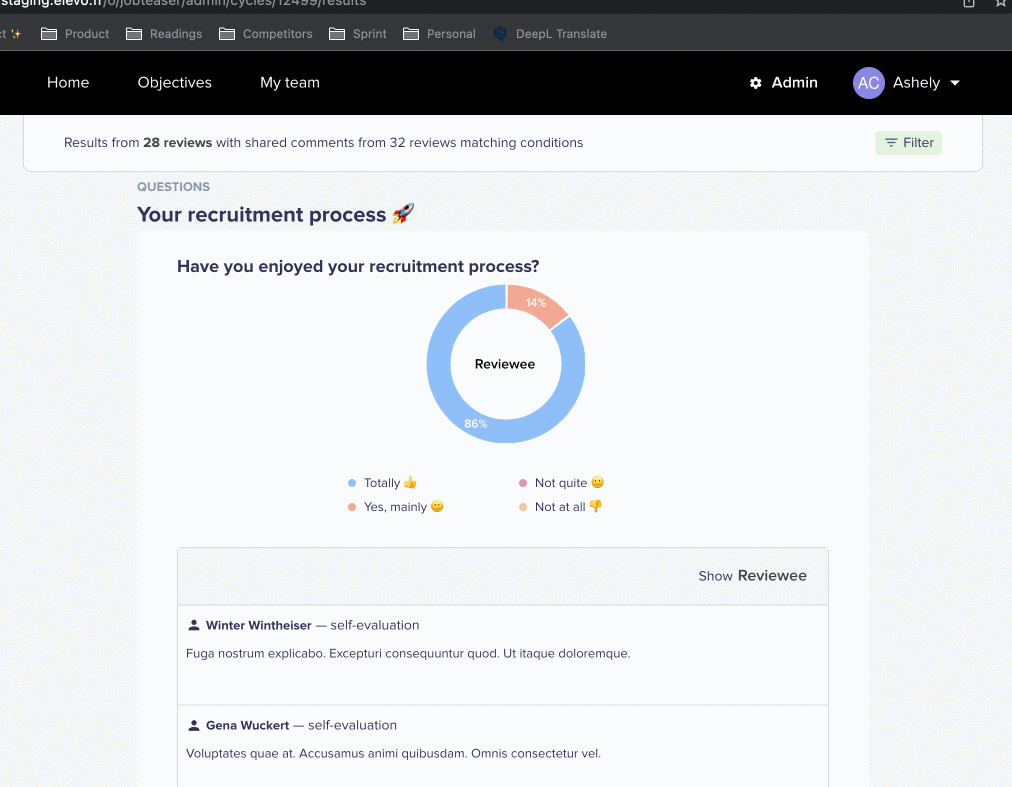 This allows you to focus on certain responses without having to export your data!
Drag and drop question blocks 👆
To ease the re-ordering of question blocks and limit the number of clicks, you can now drag and drop them!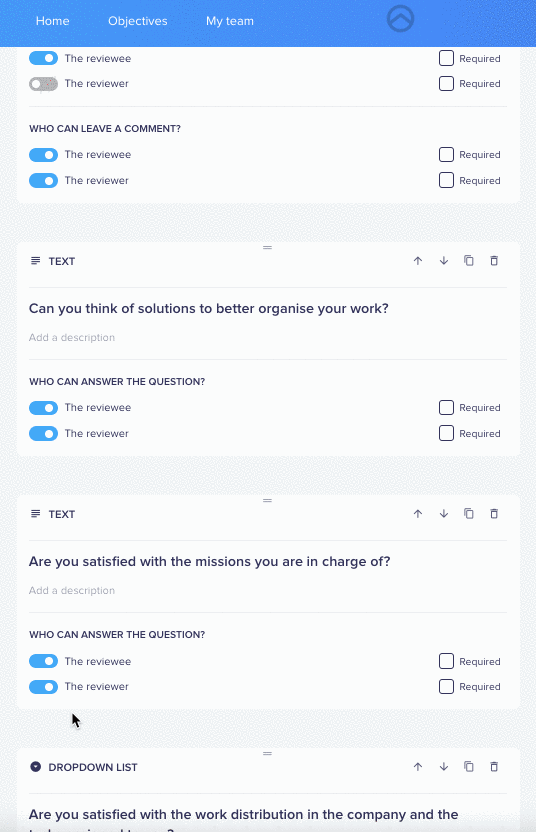 Instructions block ℹ️
In order to provide information to your employees when filling a review, a new block has been added!
This instructions block allows you to provide more context within the review, without creating a whole new section in the template.
This new block is available for all types of templates: 1:1 review and 360 feedback.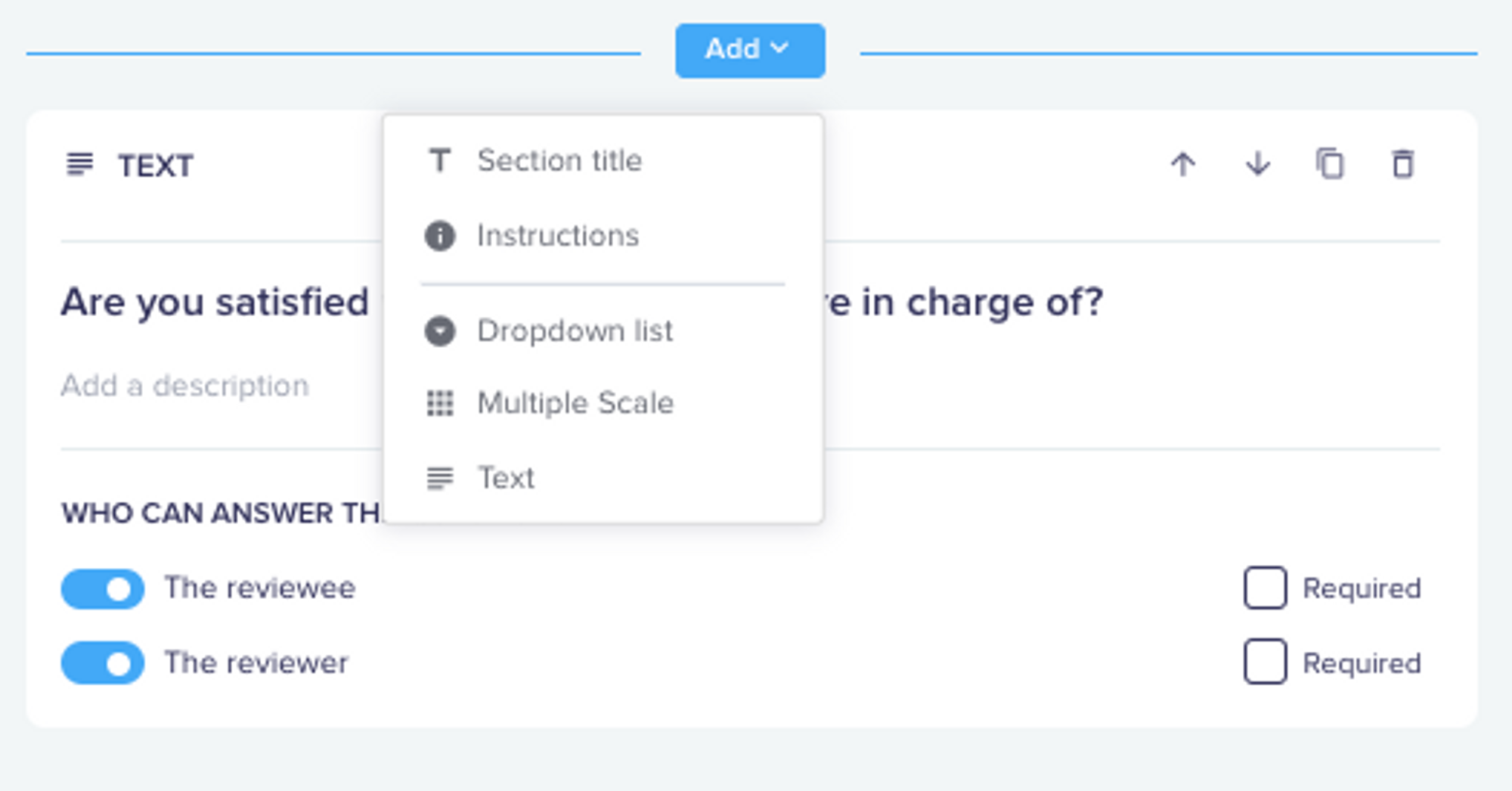 Email personalization at campaign launch 🚀
To give more information about your cycle while conveying your corporate image, it is now possible to personalize the email that will be sent to the employee as well as the reviewer.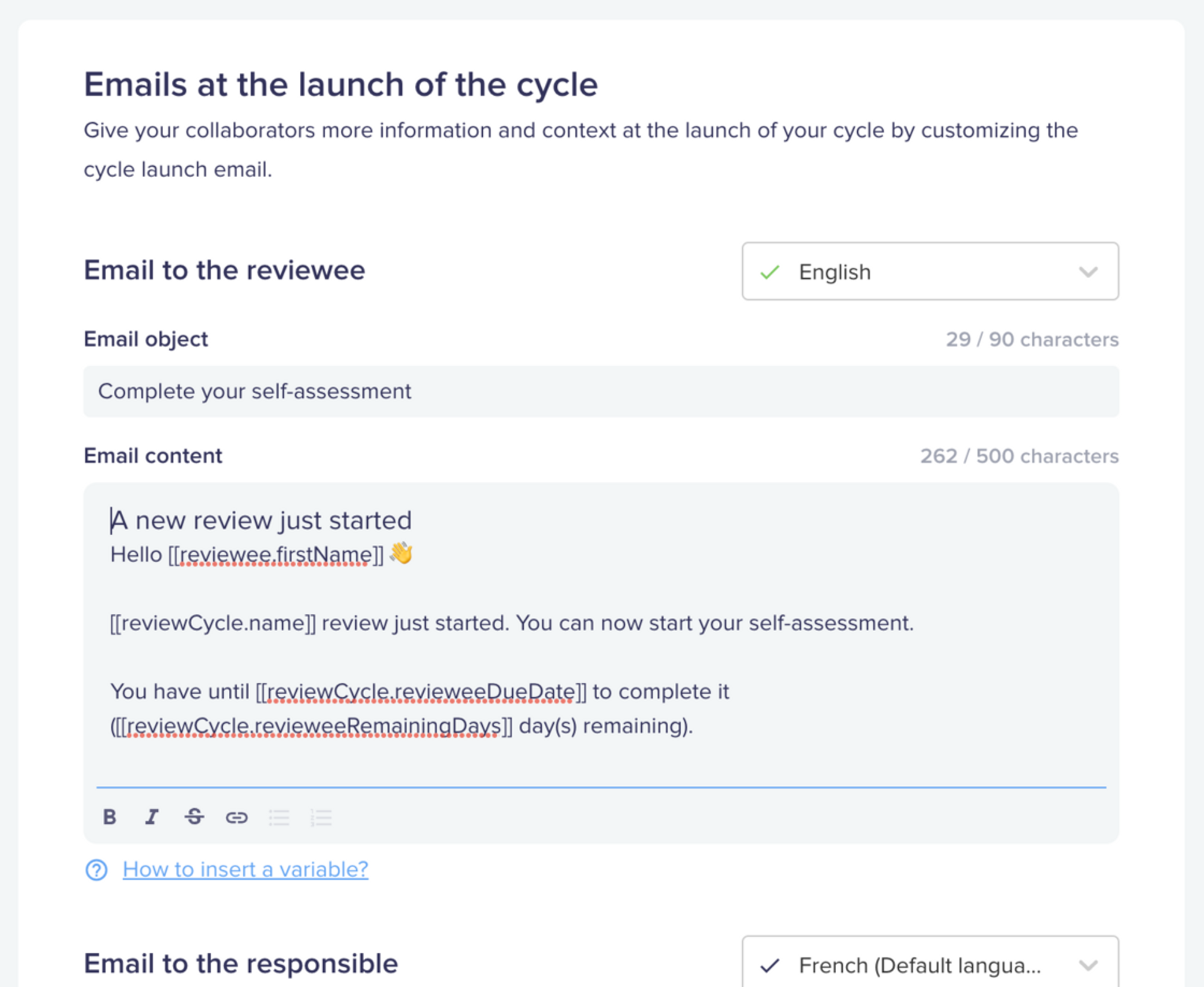 This feature is available for your review cycles as well as for your 360° Feedback cycles.
View the number of solicitations of a peer at the time of their nomination
To ensure the quality of the feedback we now display the number of solicitations when selecting peers.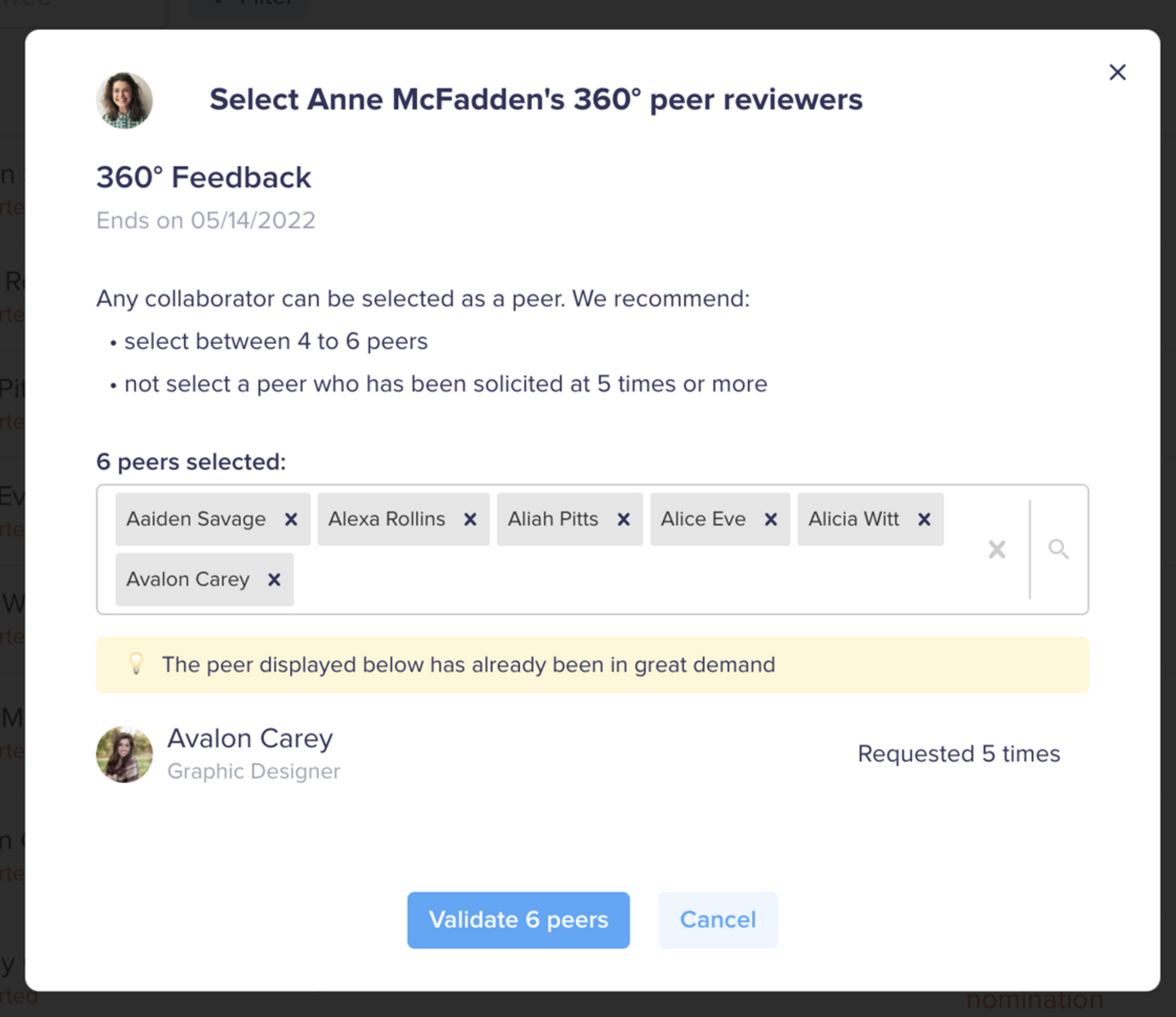 Add a second reviewer 👥
For a fairer, more accurate and complete evaluation of the reviewee, the responsible can now invite someone to provide feedback about the reviewee. This additional reviewer will also be able to sign the review as they have provided feedback.
The campaigns follow-up and analytics have been reviewed in order to reflect both reviewers' comments.
If you want to enable this feature, don't hesitate to reach out to the Support or to your Customer Success Manager!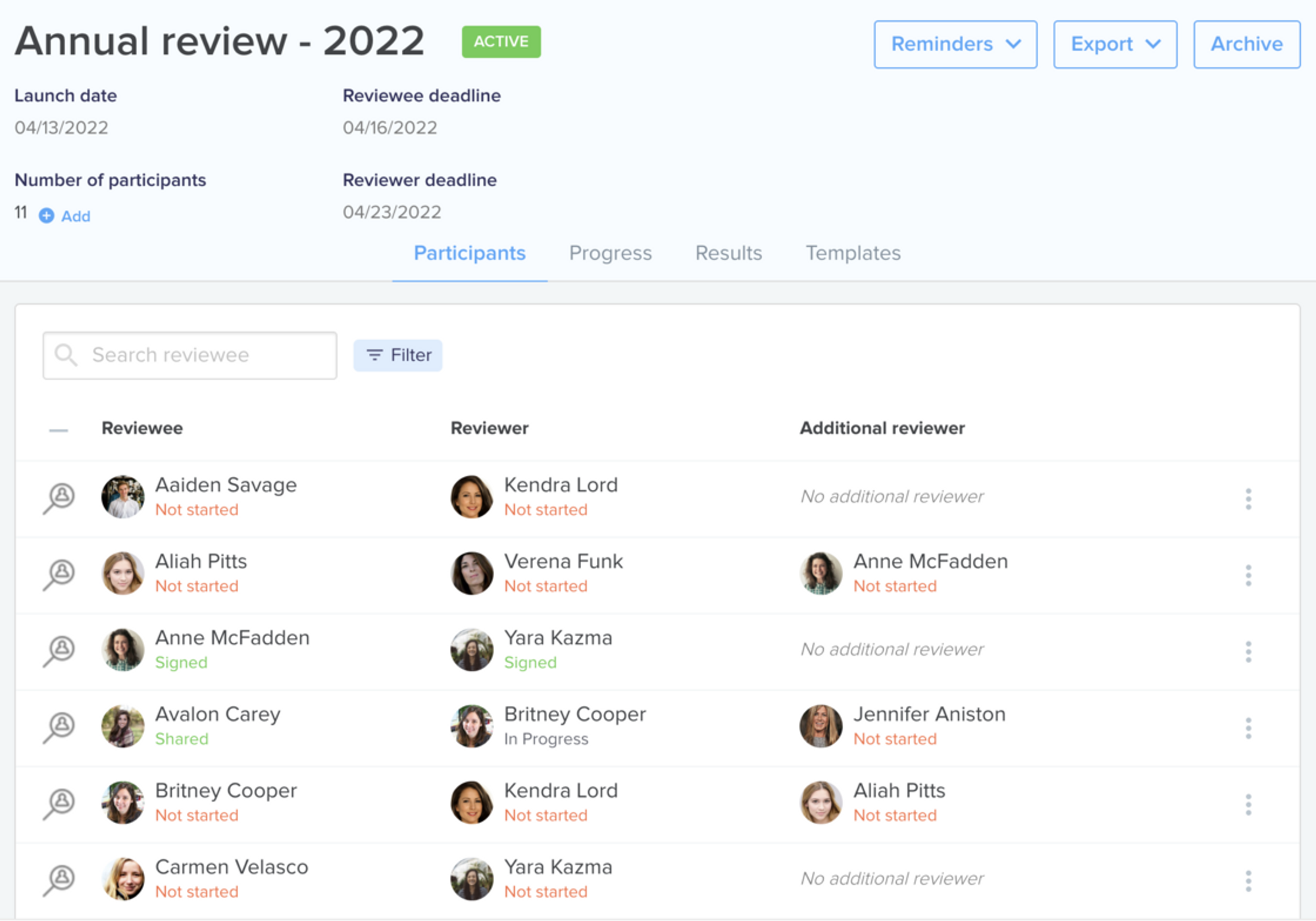 📆 Q3 2022
Templates options are always visible 👀
To avoid forgetting about template options edition, they are always visible on the right of your screen.
Anonymize data of a user [GDPR]
To give you more autonomy while being compliant with the GDPR, you will be able as Super Admin to anonymize the data of a suspended user.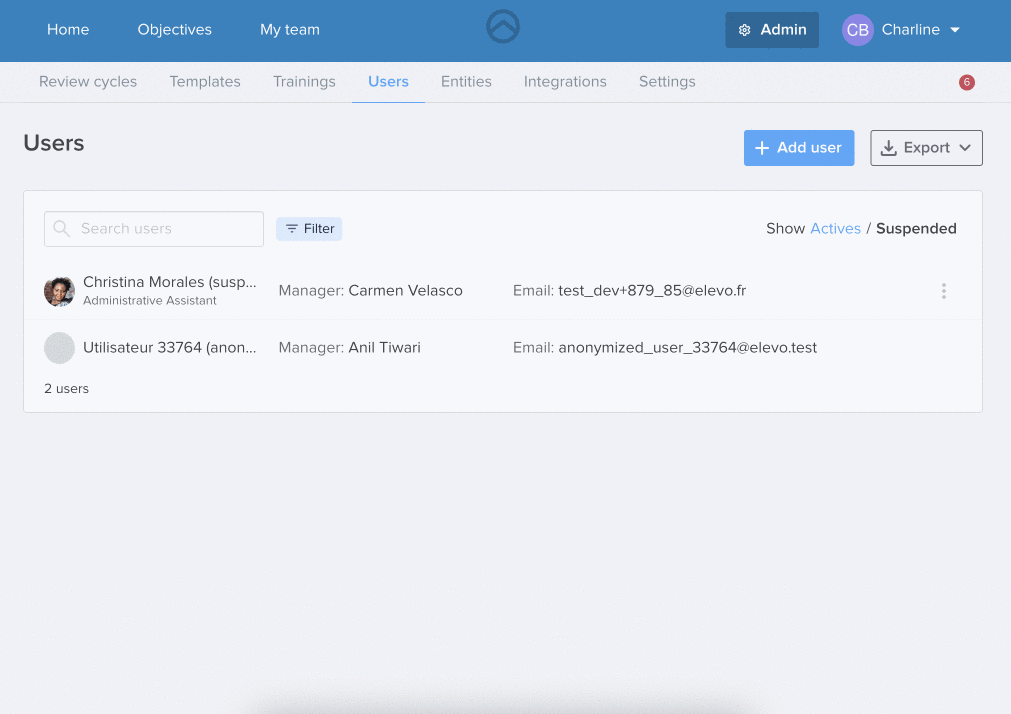 Manager survey
A time-saver and a smoother process thanks to our new Manager Survey feature!
You are now able to automatically select and validate the participants' direct reports as peers when launching a new 360 Feedback campaign!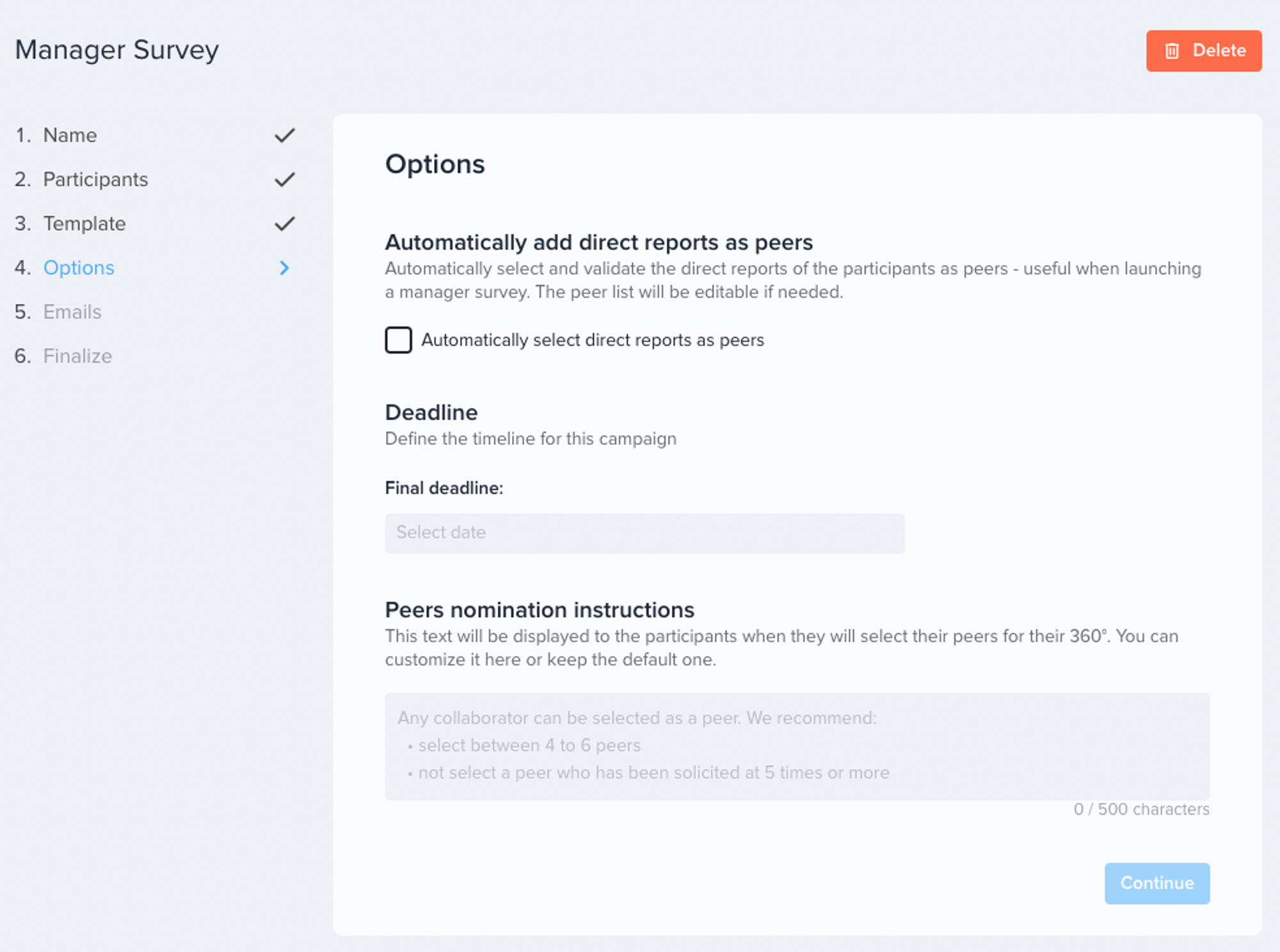 Training requests bulk creation
Creating a training request for your whole team or a department is now possible for managers and administrators! 🥳
A real time saver for your teams and a guarantee that no employee will be forgotten in their skill acquisition.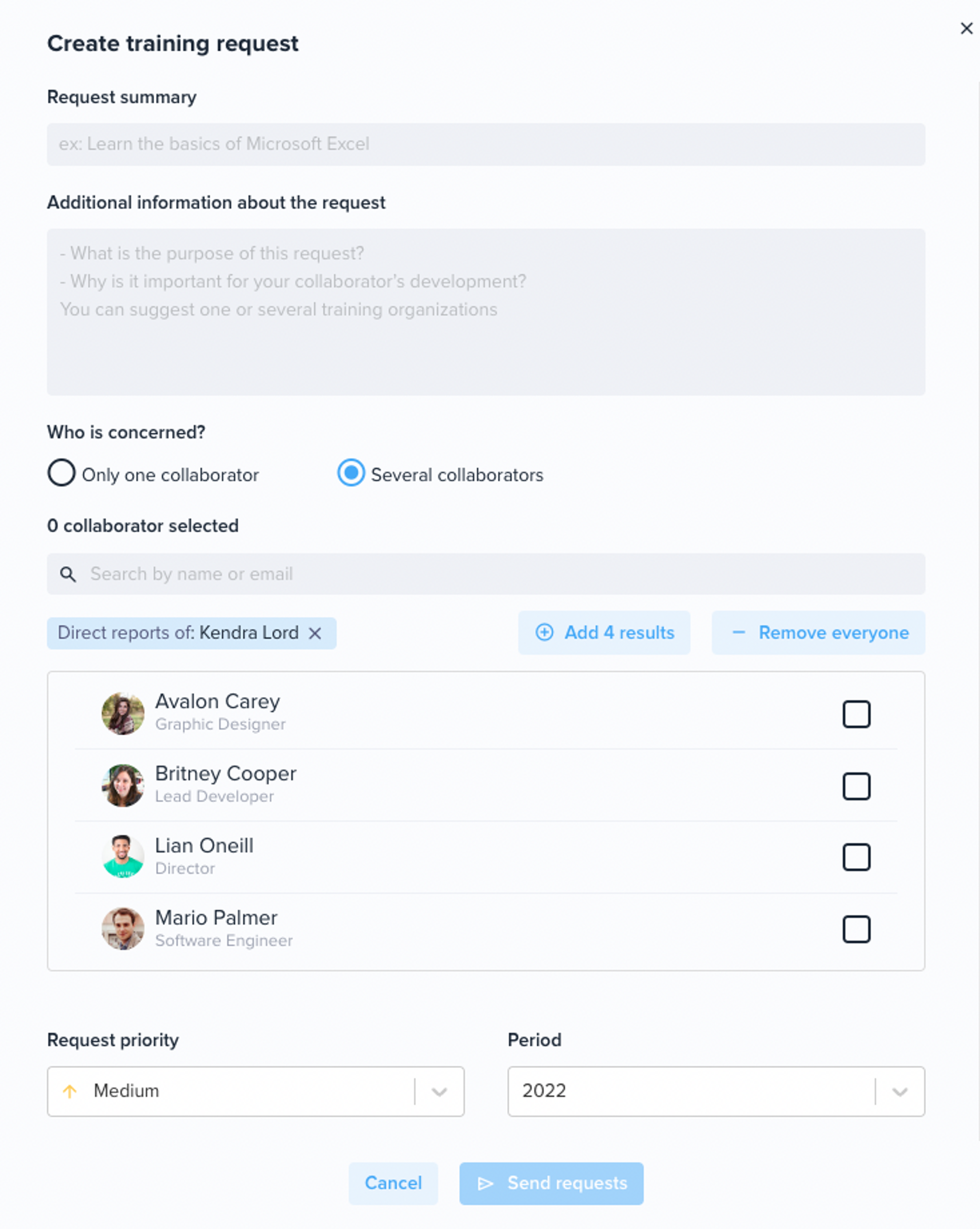 Create a training request from the review
Managers can now create a training request directly from the employee's review!
This will allow them to save time and prevent them from forgetting to create the training request formulated by the employee in their review.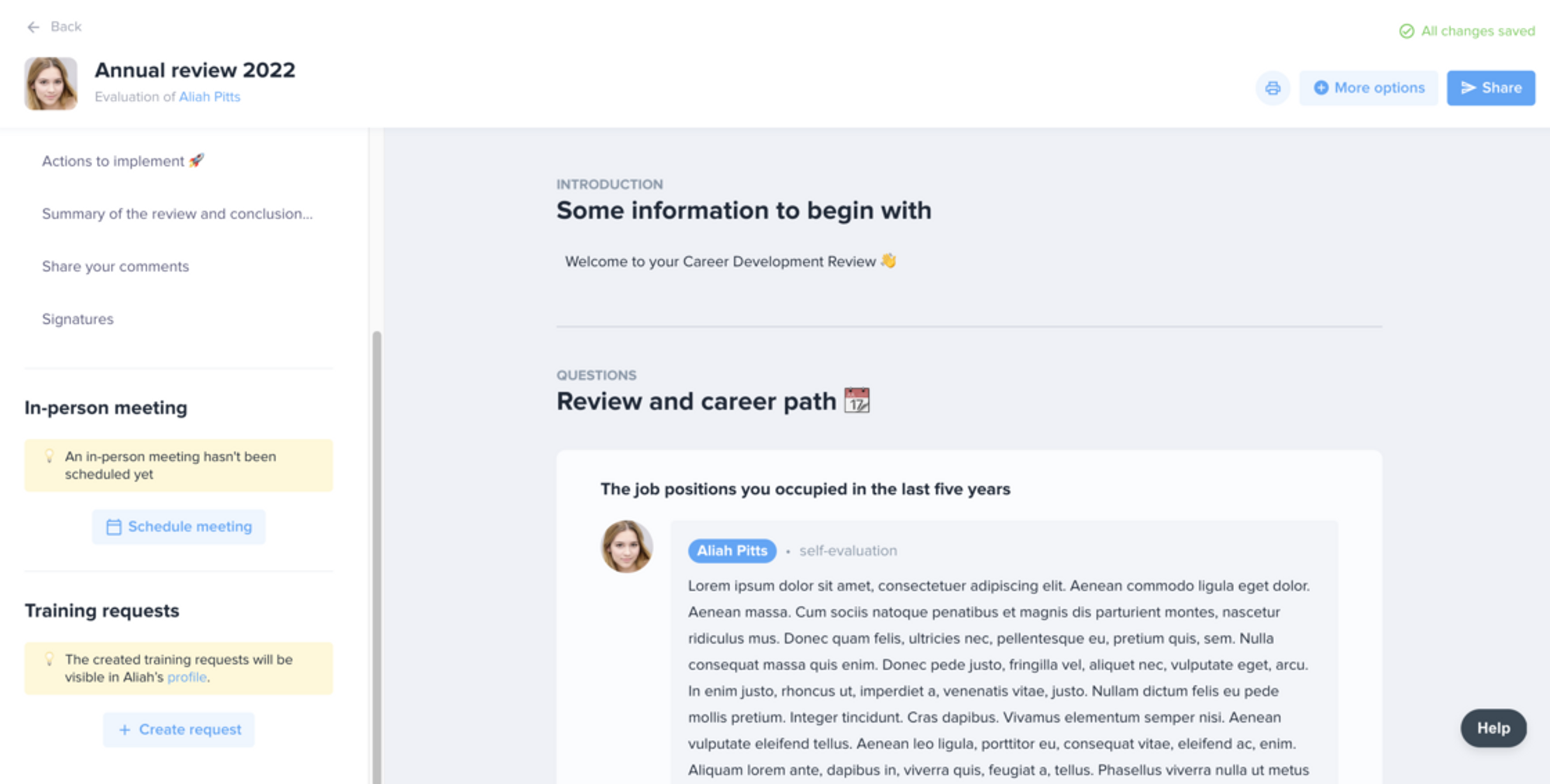 📆 Q4 2022
Manually create users on top of your sync 🧑‍💻
You can now manually create users even if you have an active synchronization with your HRIS 🎉
This will allow you to create users who need access to Elevo but are not present in your HRIS, in order to provide the same experience to all your employees.
Welcome to our brand new application! ✨
As you know, the user experience is a great concern for us, at Elevo.
That's why we have revamped our application through:
The new navigation that makes the application even more intuitive, accessible and smooth allowing you to access all our products in a click!
The homepage that provides you new customization options to allow you to brand your platform to make it even more attractive to your users!
You can find more information about these topics on our help center:
More information in your training requests exports🧑‍🎓
You can now filter your training requests exports by period, in order to analyse your budget and the requests that are linked to them!
People Review : a brand new Product

💞
Powerful and flexible, People Review gives you the data you need to make the best decisions about your people.
With multi-dimensional analysis, you have the power to define a talent review that is aligned with your business needs and specifics.
For a demo or to learn more, please contact your Customer Success Manager or Support.
Edit the hierarchical links between your synchronized and manual users ⚙️
For more flexibility in the hierarchical links management between your synchronized and manual users, you can now edit the manager value of a synchronized user.
For more use cases and details, you can read this article in our help center.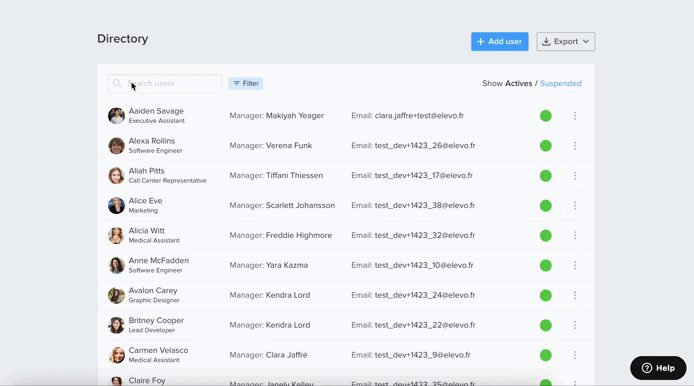 Opening links 🔗
Links inserted thanks to the text editor in your templates will now open in a new tab.
Admins can identify manual users 👐
There is a new column in the users exports available to the platform admins: the "source" column.
It will be part of the export when there are both manual and synchronized users in the organization, and will allow the admins to identify who is a synchronized or a manual user.
Choice of the background color of the logo and the banner 🎨
You can now choose a background color for both your logo and your banner - really useful for your .png images! More details in this article.
Create collective training sessions 🙌
You can now group several training requests in one training session!
No more copy/paste mistakes, you will save time in your training requests management as well as in planning your training sessions! 🥳
For more details on this new feature, you can have a look at our documentation, available on our help center.
Import your training sessions history 📂
When you activate the Training product, you can provide an Excel file to your Customer Success Manager in order to import your training sessions history in Elevo!
No more information loss and a complete history helping you make decisions on your employees' training requests.
For more information on the process and the Excel template to follow, you can read this article.
Export the results of your People Review campaigns 📤
If you need to create reports, prepare a deck for a COMEX presentation following your People Review campaigns, you can now export the data collected during the campaigns.