This article is intended for Administrators.
👩🏼‍🔧
eNPS Settings
For this first eNPS version, the campaign settings will be configured by the Elevo Support team (support@elevo.io) to ensure correct implementation and set-up. Please contact your Customer Success or Support for more information or if you wish to make any changes.
You will be able to define:
the number of days the eNPS will be open for completion (it can be modified during or between periods). The number ranges from 1 to 27 days (February having 28 days, we needed to avoid having two eNPS at the same time when a monthly recurrence is set). Once the deadline has expired, employees will no longer be able to send or modify their reply.
Participants to be excluded from the eNPS assessment (namely founders or C-levels) by providing a list of their e-mails.
eNPS frequency, or how often employees will be surveyed. eNPS can be submitted every X months, and it will be up to you to define the X value.
The status: whether the eNPS is active or not (allows to set a launch at a month M+X instead of an immediate launch).
🚀
Launching eNPS
eNPS is automatically sent to employees on the first Monday of every month.
It is scheduled at 8:00 a.m. UTC which corresponds to:
10 a.m. Paris summer time

☀️,

9 a.m. Paris winter time

❄️

.
👀
eNPS Monitoring and Analysis
To enable you to track employee feedback, a monitoring interface is available in eNPS > Results.
Only statistics for the current time period are displayed. Previous time periods cannot be accessed.
💡 Please note that if you are not concerned by any ongoing period, the last time period will be displayed.
This page has three sections:
Key Indicators for the Ongoing Period
The closing date of the ongoing eNPS period is shown at the top of this section.

Are also available: the eNPS score for the ongoing period, the percentage breakdown of promoters, passives and detractors, and the completion information for the current period (number of participants, number and percentage of responses and number of submitted comments).
To learn more about the score, please read the article About eNPS.
eNPS Trends

A graph shows the different eNPS scores on a timeline enabling you to visualize the evolution curve. When you move your mouse over a dot, the exact score is displayed.
💡 Please note that the eNPS frequency can be changed when in use. Therefore, time markers are not necessarily monthly or half-yearly: this depends on the settings defined at a given time.
Comments on the Ongoing Period
The eNPS score is a key indicator of your company's current operating conditions. This implies a next step to examine this score in greater depth in order to put in place any action plan that may be required.
Comments are a helpful to fine-tune this score and obtain more details regarding what's behind the scores. When you go to the bottom of the page, you can view all the comments submitted during the ongoing period.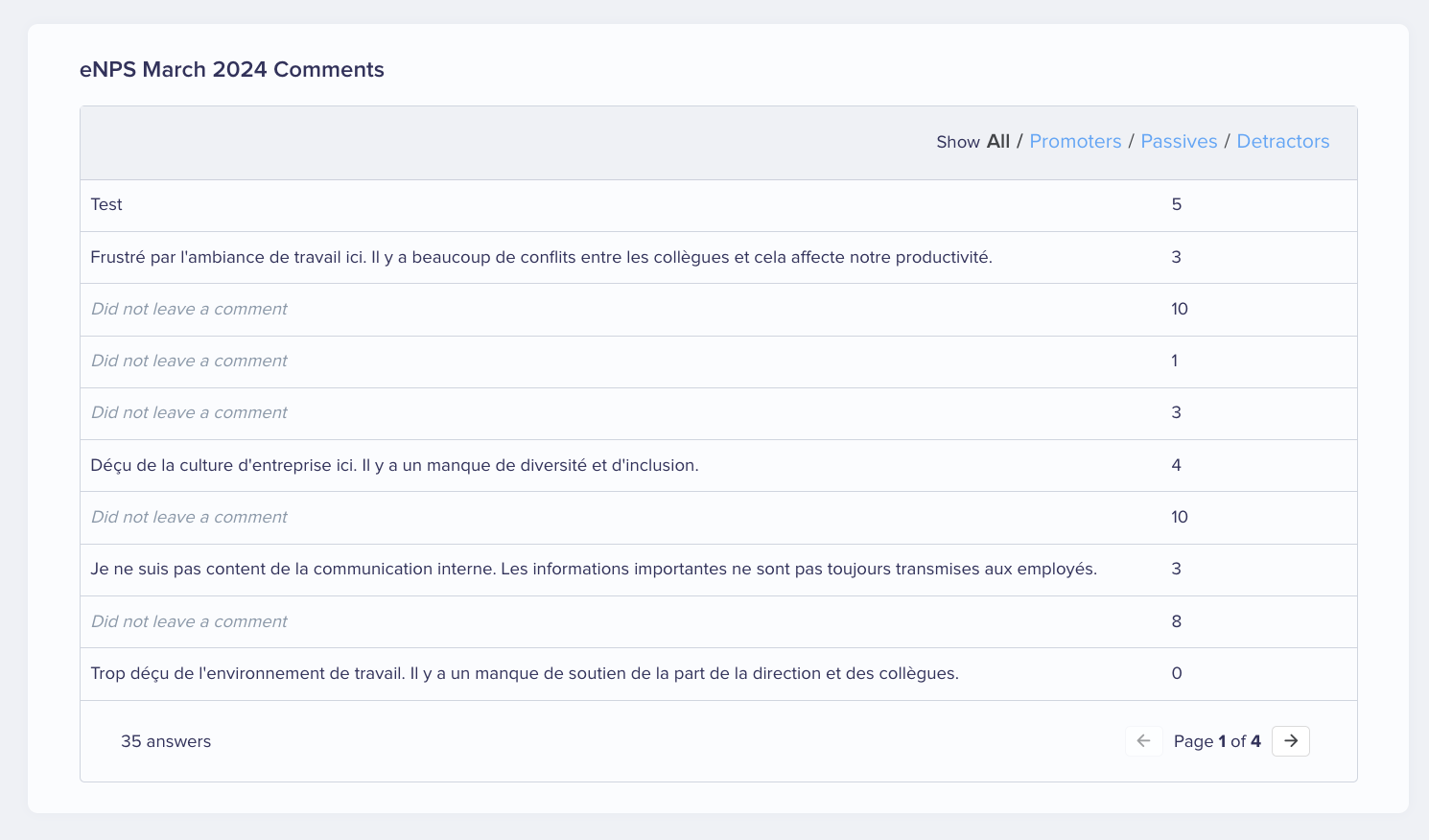 To target comments according to their category, use the filter on the right of the chart and click on Promoters, Passives or Detractors.