This article is intended for administrators.
In order to provide a more comprehensive and complete assessment, additional files can be directly added to a review 🙌🏼.
As a reviewer, this will enable you to deal with a number of specific needs: you could, for example, add an Excel file regarding objectives or compensation, or even include documents linked to an employee follow-up, as required for assessments.
💡 Please note that only the 1:1 Reviews product allows you to attach a document to a review.
👀 Who can view or add a document?
Authorizations to view, add or modify enclosed documents vary from one user to another. Please find the details below:
| | | |
| --- | --- | --- |
| User | See a document | Add/Delete a document |
| Employee | ✅ | ❌ |
| Main reviewer | ✅ | ✅ |
| Additional reviewer | ✅ | ✅ |
| Admin | ✅ | ✅ |
⏳ When can a document be added?
Likewise, the document can only be added at certain times of the review process, and never once it has ended. This allows to keep track of what has been discussed during the review and prevents any subsequent changes.
| | | |
| --- | --- | --- |
| Review status | See a document | Add/Delete a document |
| Not started/Ongoing | ✅ | ✅ |
| Shared by the additional reviewer | ✅ | ✅ (only the main reviewer and admins) |
| Shared by the main reviewer | ✅ | ❌ |
| Signed | ✅ | ❌ |
📄 What type of documents can be added?
Up to 10 documents can be added to a review, either in several sessions or all at once.
The maximum file size is 5 MB in one of the following formats:
💡 Please note that all documents that are added to a review will undergo a virus scan.
➕ How do I add a document?
Documents can be directly uploaded via the relevant review using the feature on the sidebar, in the section which includes the survey and in-person scheduling.

💡 Please note that this feature only appears if the user has the right to add a document (see 👀 Who can view or add a document?) and if the review status allows it (see ⏳ When can a document be added?).
A modal window will appear at this stage allowing you to either drop the file(s) from your file explorer or download documents by clicking on "import".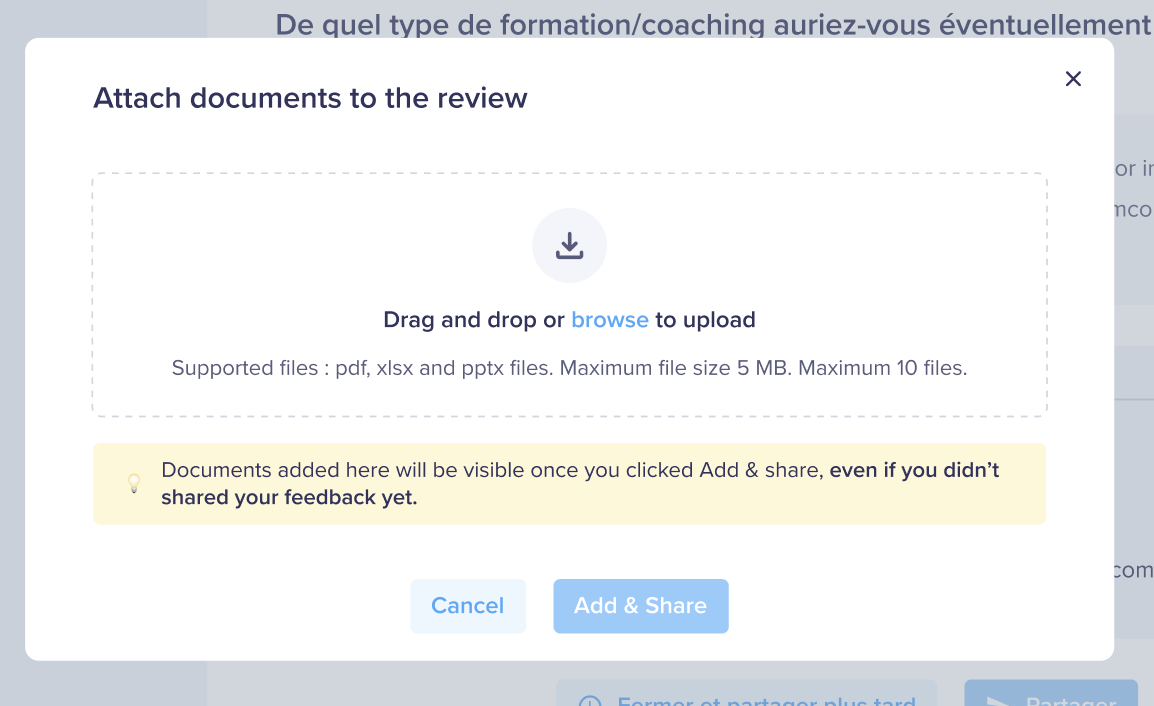 Once the files have been selected, they will be downloaded and within a few seconds, you will be able to verify that the import has been correctly completed.
Downloading

Anti-virus scanning

Anti-virus Scan Error
Downloaded

To complete the download, click on "Add and Share".
⚠️ Please be aware that the documents can be accessed via the review once they are uploaded, even if the review has not yet been shared by the reviewer, as indicated in the modal.
❌ How do I delete a document from a review?
A document can be deleted as long as the main reviewer does not share the review. Deletion can be done either by a reviewer or an Admin.
To do so, click on the wastebasket icon at the right of the file. You will then be asked to confirm the file deletion.
💡 Please note that file deletion must be done for one file at a time, and not for several files at the same time.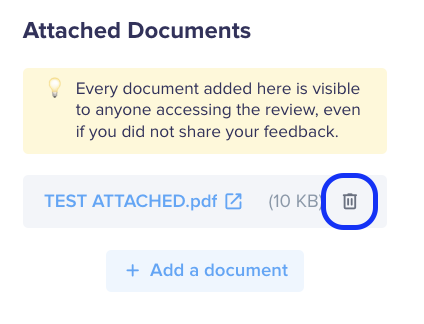 🙋🏻‍♂️ Questions
➡️ Are attached files downloaded when I export the PDF of my review?
No, only the PDF file with your answers will be downloaded.