This article is intended for Administrators.
Tags make it easy to identify and mark certain campaigns according to criteria that you define. Currently, this feature is only available for Audit Reports (to find out more: XXX).
💡 Please note that the "Tags" feature is only available with the 1:1 Reviews product. If you wish to activate tags in your account, please contact our Support (support@elevo.io) or the CS in charge of your account.
🔖
Using tags in a campaign
One or more tags can be inserted into a campaign:
Adding one or more tags to a draft campaign
Tags can be added in step 4 ("Options") of the campaign setup process.
The following options are available:
create a new tag: specify its title and then click on "Create",
select an existing tag: click on the corresponding entry and then on the applicable tag in the drop-down menu.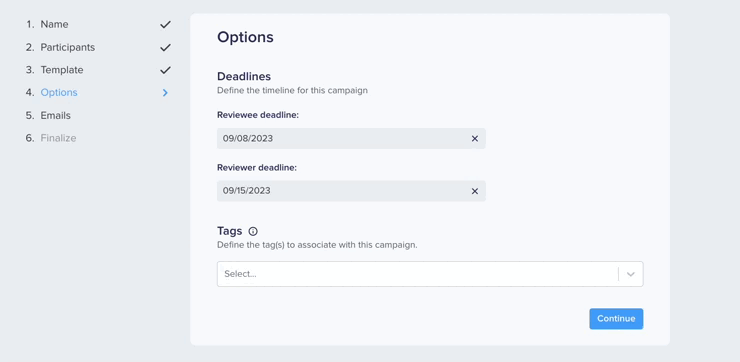 Adding one or more tags to an ongoing campaign
go to Campaigns > Campaign X,
in the top right-hand corner of the screen, under the Reminders/Export/Archive buttons, click on "Add" then create a new tag or select an existing tag,
simply click on the cross at the right of the tag title to remove it from the campaign.
🙋🏻‍♂️
Questions
➡️ Can tags be translated?
No, tags are only available in the language in which they have been created and cannot be translated.