This article is intended for Administrators.
The Audit Reports have been developed to ensure efficiency and compliance with your employee review process when using Elevo (mainly according to the french law).
💡 Please note that the "Audit" feature is only available with the 1:1 Reviews product. If you wish to activate this feature in your account, please contact our Support (support@elevo.io) or the CS in charge of your account.
👀
Who can access audit reports on Elevo?
All Admins can access to the Audit Reports feature (whether they are Admins for the whole interface or for a specific entity (in case of a multi-level admin subscription). Yet Admins dedicated to a specific entity will only have access to the population within their scope.
Employees do not have access to audit reports and will not receive any associated notifications.
🧑🏽‍💻
How can I generate an audit report?
Only Admins can create an audit report.
If you have subscribed to the multi-level admin option, then only main Admins will be able to generate audit reports. Entity Admins will not be able to do so. Entity Admins can only view the reports that include one or more users within their department.
To generate a report, go to "Audit Reports" in the side menu, then click on "Create". You will need to enter a title and a compliance rule (see below).
🧐
How does an audit report work?
An audit report verifies whether employees comply with a defined rule. The rule is defined when a report is created, and consists of associating a tag (and therefore a campaign type) with a frequency.
It will enable you to identify employees who have not participated in the campaign marked with that tag since the frequency has been defined .
Example: Associating the "Professional review" tag with a "24 months" frequency.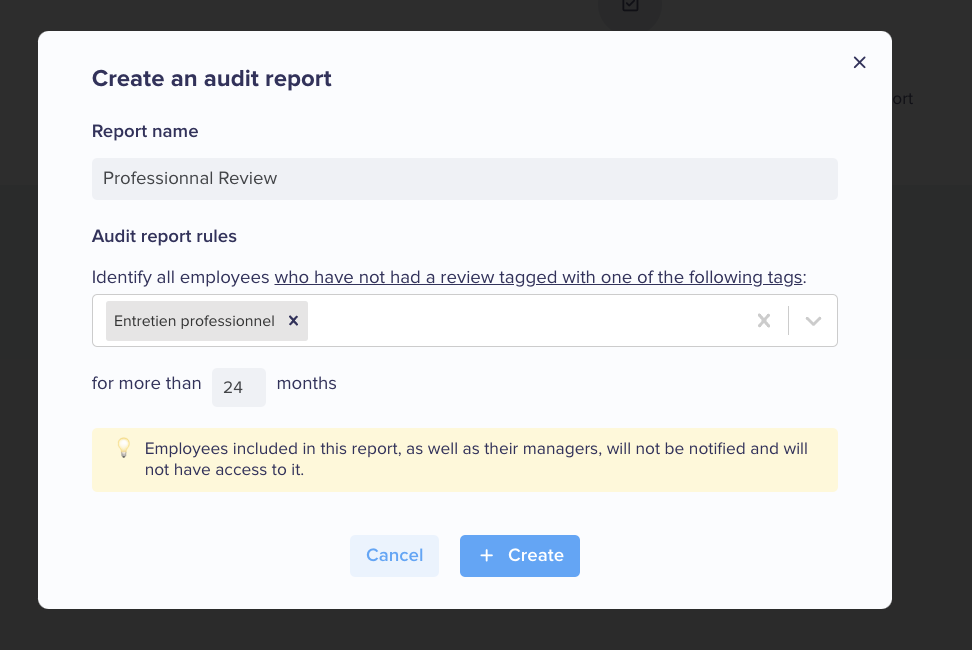 Data is automatically updated on a daily basis (and new employees are added). If necessary, you can force data updating by clicking on the "Refresh data" button at the top right of the screen.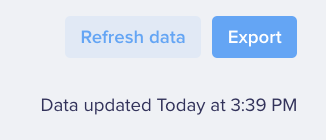 💡 Please note that the audit report takes into account the reviews carried out on Elevo as well as any imported reviews. For more information on imported interviews, refer to this article.
How is compliance verified?
Employee compliance is verified according to 2 criteria:
the date of hire,
the date of the last review as per the defined rule, whether on Elevo or imported (only if the employee has previously been included in a campaign matching the rule).
Only campaigns marked with the tag defined in the audit report rule are taken into account when determining compliance.
Example: I decide that my audit report is to be based on campaigns with tags: "Tag A" and "Tag B".
I have 3 campaigns:
Campaign X with tags "Tag A" and "Tag C",
Campaign Y with tags "Tag A" and "Tag B",
Campaign Z with "Tag C" only.
Consequently, only campaigns X and Y will be included in the audit report and the conformity assessment.
⚠️ Please be aware that we only check whether the employee has been included in a campaign, we do not check whether he has shared or signed the interview.
Compliance statuses
Several statuses have been defined to differentiate the levels of compliance or non-compliance:
Late

: the employee is not in compliance

➡️

An action is required.
Nearing deadline: the employee is still in compliance, but will be overdue in 2 months or less

➡️

Action is recommended or can be anticipated.
Up to date: the employee is in compliance

➡️

No action required to date.

Unknown

➡️

the employee has never been added to a campaign based on this rule whether via Elevo or imported. Therefore the status is undetermined.
🏆 Audit report results
Results are presented in an aggregated form at the top of the screen, and also in a more detailed list view.
Filters are available on both views to refine the display.
Aggregated overview

Detailed overview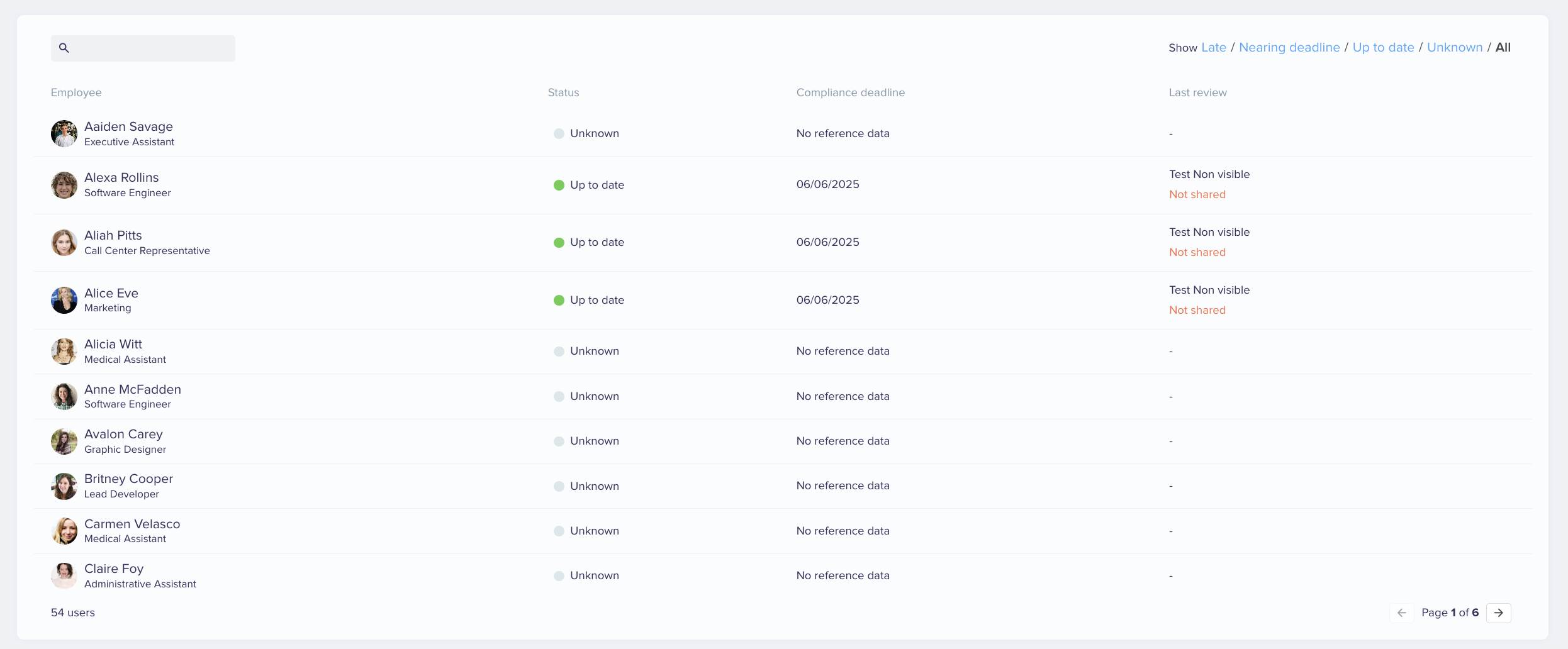 The detailed overview can be filtered by status, to rapidly identify the ones overdue, for example.
For each employee, you will find:
the employee's name with a link to the profile,
the employee's status in relation to the audit report,
the compliance deadline, meaning the date from which the employee will become "late",
the most recent review according to the conformity rule and its status, and a direct link to the review when it has been carried out on Elevo.
💡 Import employees who are not in compliance with a campaign
In addition to identifying non-compliant employees, Elevo allows you to export a list so that you can re-import them into a new campaign. This makes it easy for you to achieve compliance! 🙌🏼
Simply export the data (top right of the audit report) received by e-mail. You can then filter employees who are "late" or with "nearing deadline" in sheet 2 entitled "Details".
You can then re-import this list in csv format into a new campaign. Read this article for more information : Importing employees in bulk into a campaign.
🙋🏻‍♂️
Questions
➡️ How can I modify or delete an audit report?
This is not possible in the current version. Please contact Support (support@elevo.io).
➡️ I need to export the data, is this possible?
Yes, click on "Export" in the top right-hand corner of the relevant audit report to receive the data by e-mail.