Dear Employees, welcome to Elevo!
Are you looking for a guide/manual/FAQ for Employees? You've come to the right place!
If you are curious about your Manager's process, feel free to browse the related article: My first steps as Manager.
⌨️
Your first time logging in
When invited to a campaign, you will receive an invitation email: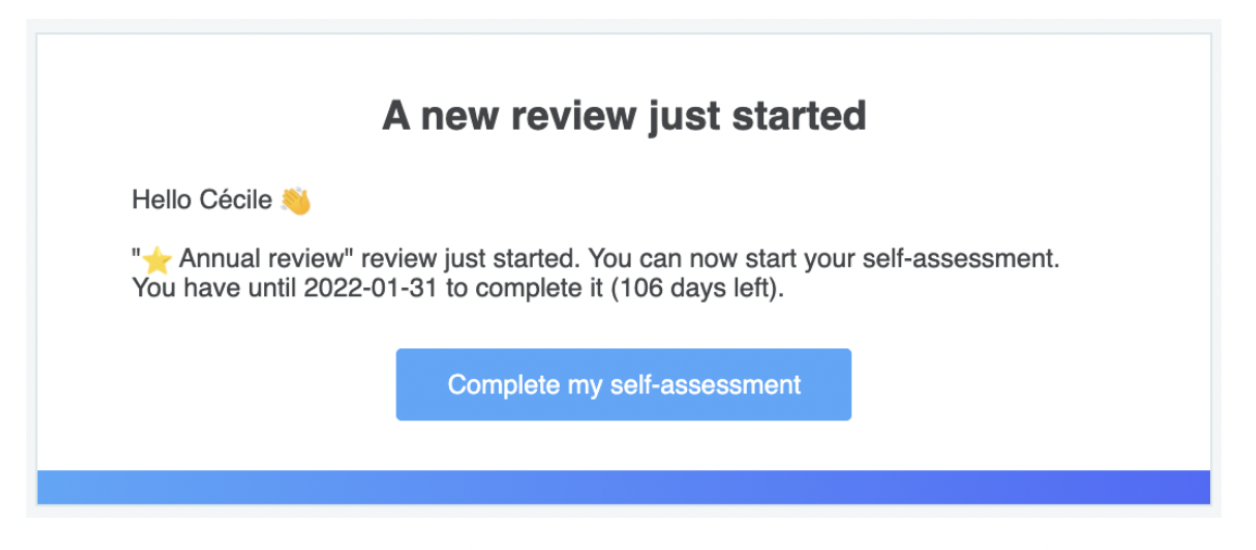 You can then set your password by clicking on "Complete my self-assessment".
💡 Note : If your profile uses SSO, a password is not required. You will be redirected to your usual company login.
🏄
How to easily navigate on the platform
Elevo has been designed for simple and intuitive website navigation.
If you have not already done so, please start by reading our article dedicated to the navigation.
🤓
Review campaign process
A review has 5 phases:
Preparing a review,
The Employee gives you access to his preparation,
Face-to-face review,
Your comments are shared after discussion with the Employee,
The review is signed by both Employee and Manager (optional).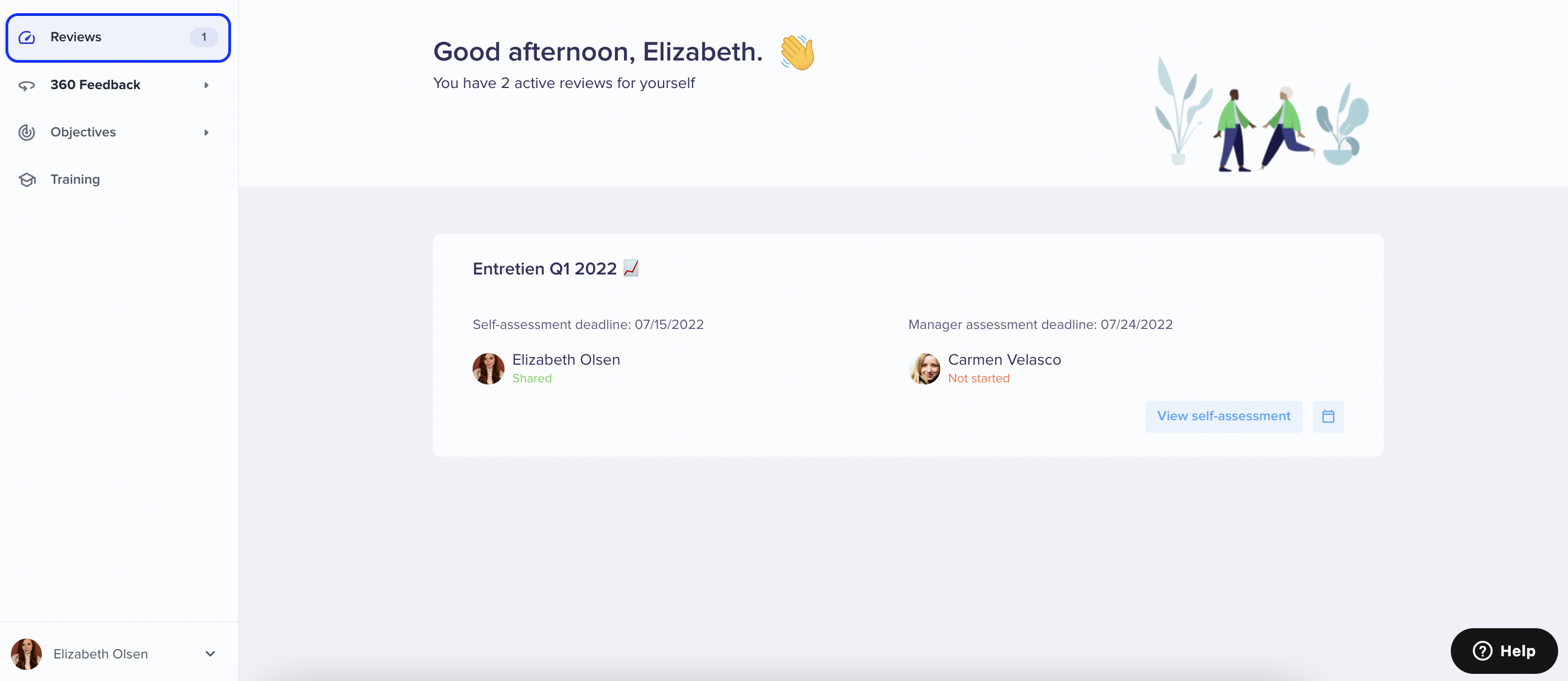 1 - Preparing the review
🗒
Employee and Manager can prepare the review on their own. The preparation remains private until it is shared.
💡 Note that answers benefit from real-time backup (we recommend that you check your internet connection).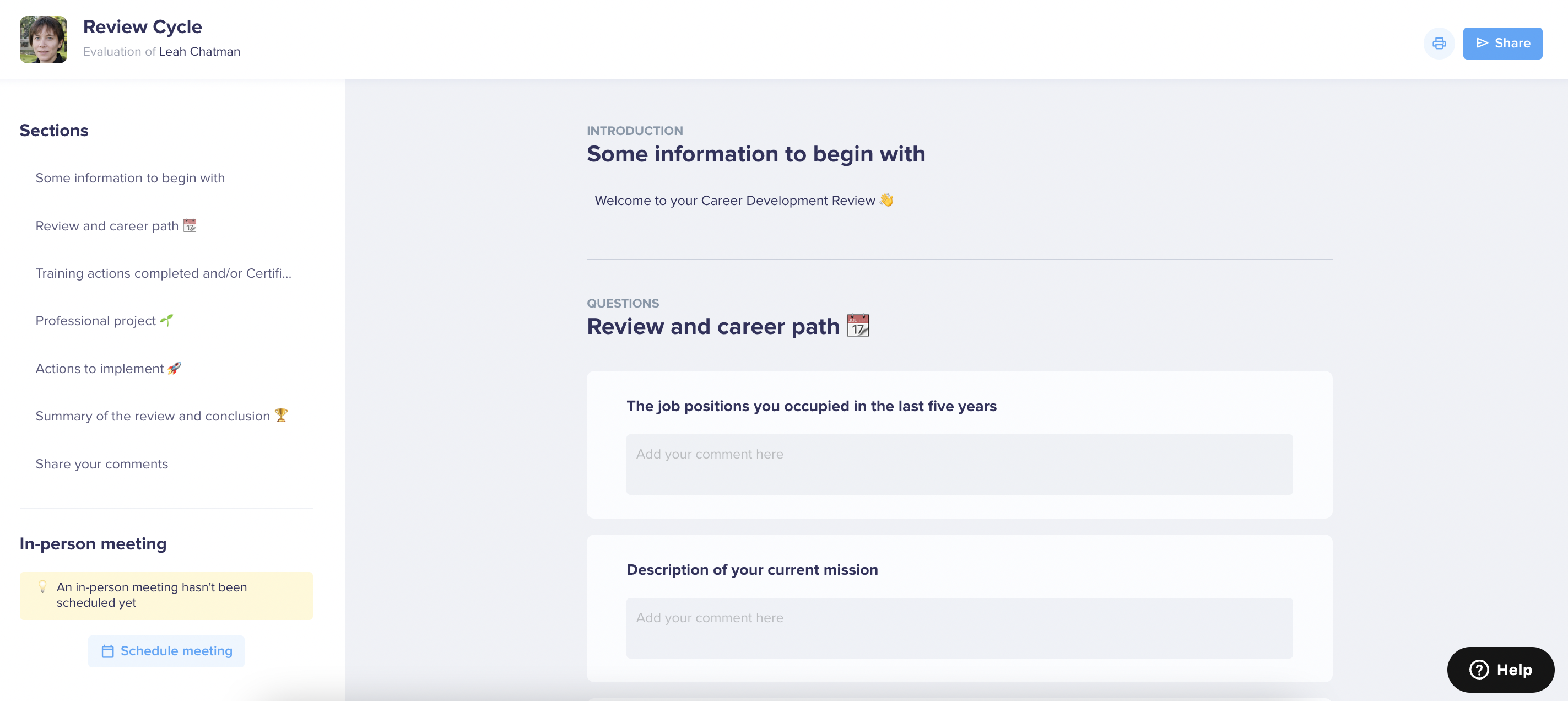 If the review concerns an assessment of objectives, the employee's current objectives will be displayed within the review (at the beginning). You can comment and update them. You can also define new objectives if the option has been activated by your HR team.
If you need to define new objectives for the upcoming period during the review, you can do so in the corresponding section (only if the option has been activated by your HR team).
2 - Sharing your preparation
📲
This step is important because it allows the Manager to take the lead on his part. Basically, you must share your preparation to enable your manager to share his.

It is also possible to click on Share at the top right of the review.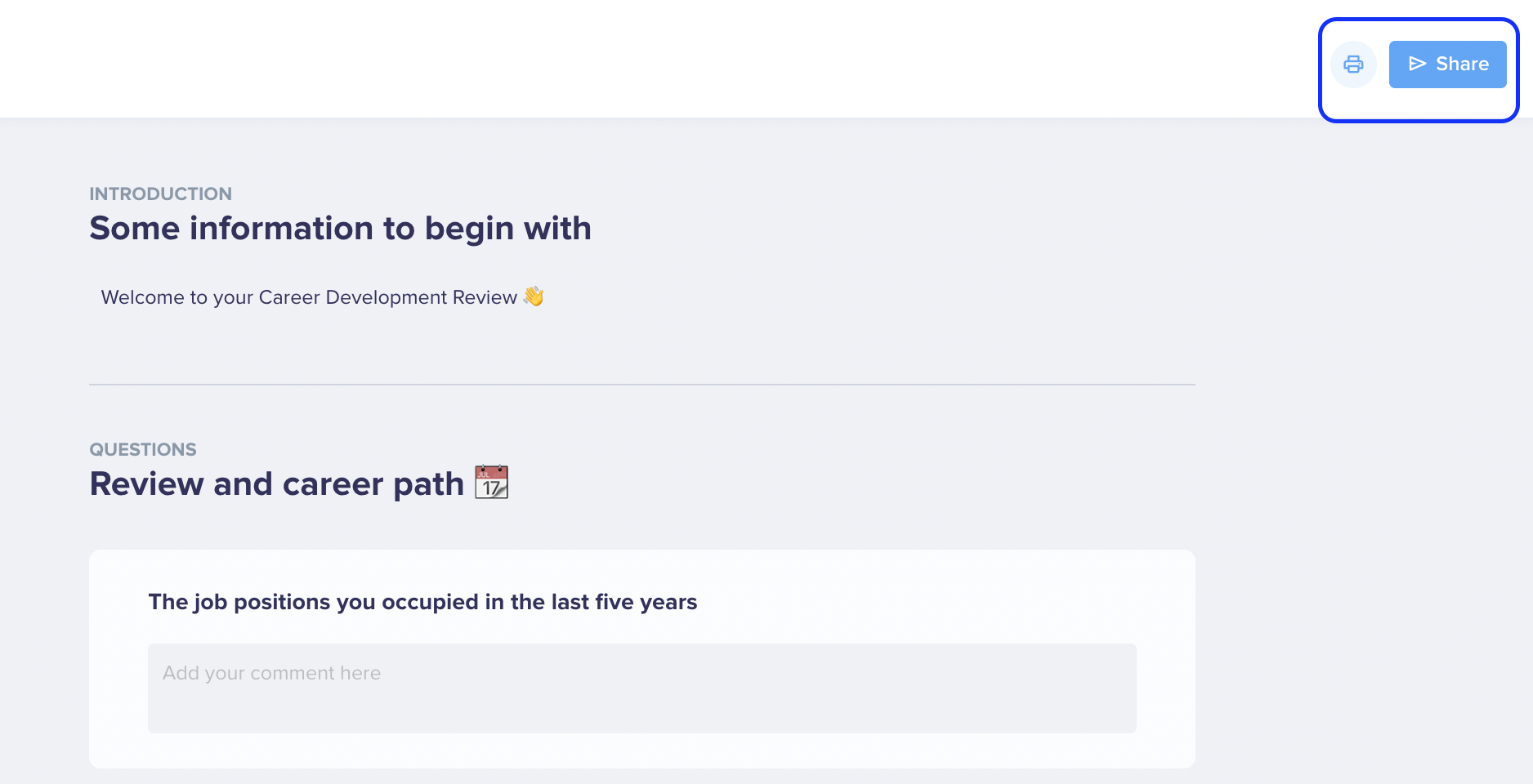 You can share preparations after the face-to-face review to complete your comments.
⚠️ Warning: Some questions or comments are mandatory and can block the sharing if they are not filled. A red border and the mention "Mandatory" appear to indicate which questions or comments are concerned.

3 - Face-to-face review
🤝
Elevo is not a substitute for face-to-face reviews.
The Employee and Manager preparations recorded in Elevo help to guide the discussion.
💡 Note : There is also a printing feature, should the discussion be performed without access to a computer.
4 - The Manager shares his finalized comments after discussions with the Employee
🖥
Once the face-to-face review is completed, your manager will share his comments with you. When he does so, you will be notified by email.
5 - Signing the review
✒️
Your HR team decides whether to activate or not this option. It can include a "final comment" field.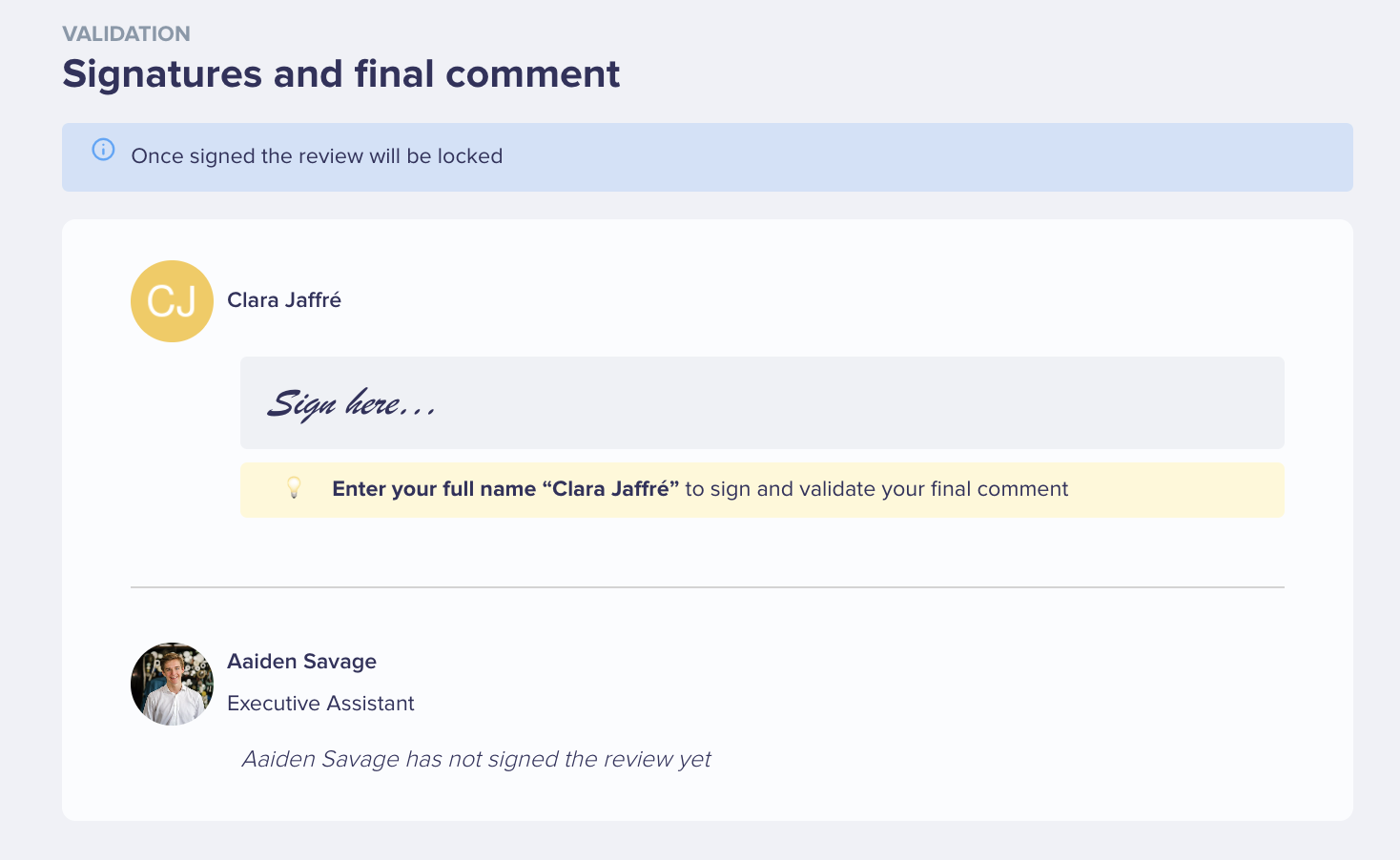 ⚠️ Warning: This field is case sensitive. It will be necessary to respect the spelling of your first and last name on Elevo.
📉
Monitoring your objectives
To access your personal objectives, click on the "Objectives" menu in the sidebar and then on the "Personal" tab in the drop-down menu.
Access is also available via your profile.
To learn more, please read the following articles:
🔎
360 Feedback process
💡 Note : 360 Feedback will only be available if your company has purchased this option.
A 360 Feedback campaign has 4 phases:
Appointment of peers by the Employee (optional),
Approval of peers by the Manager (optional),
Response to the 360 Feedback survey,
Analysis of aggregate results and restitution.
As a reviewee within a 360 Feedback campaign:
First, you must select the peers who will answer all the questions about you.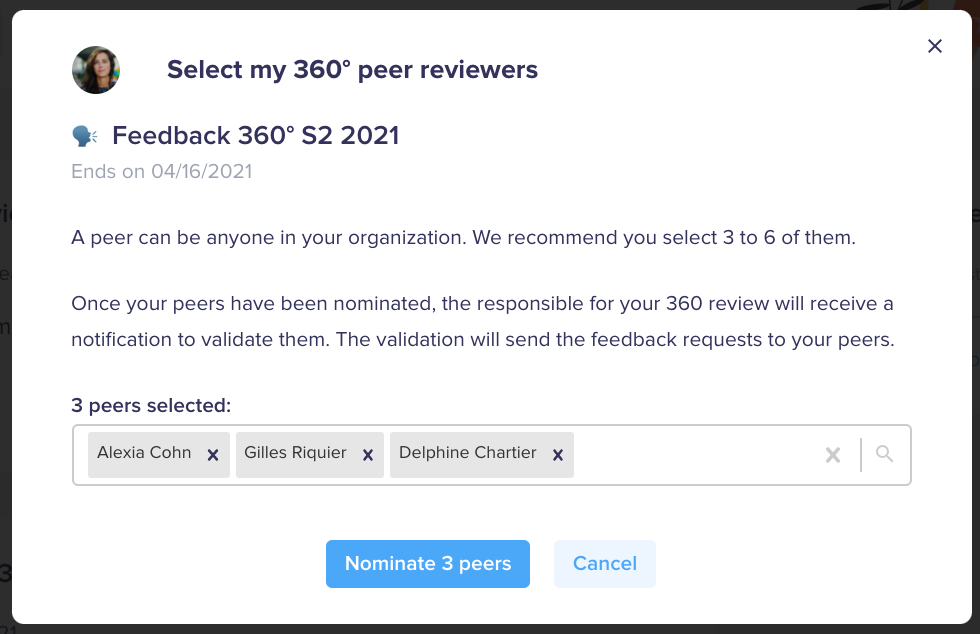 Once the peers are appointed, your manager receives an email asking for his validation. As long as your manager does not validate your choice of peers, you can still edit your choice.
Once your manager has validated the list of peers, you can start your self-assessment (if it has been activated):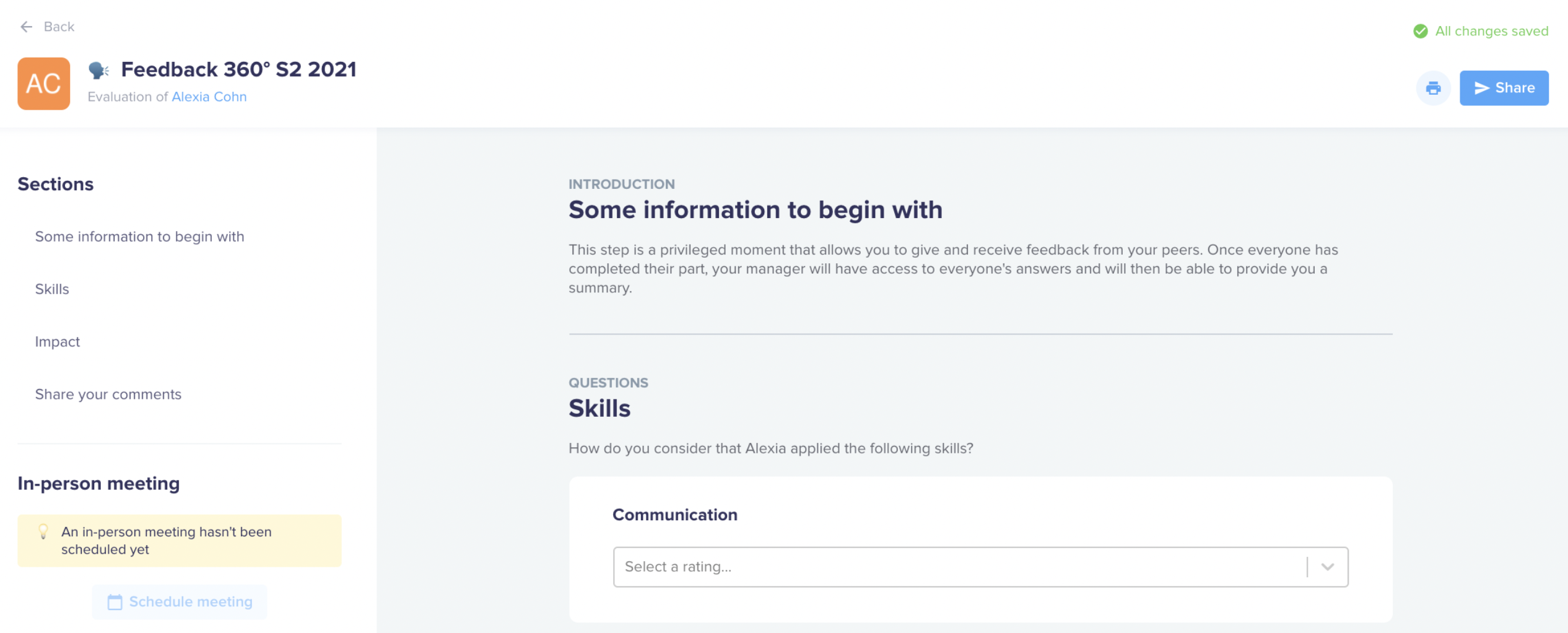 When the campaign is over and your manager has shared the results, you will have an aggregated overview of the results.
As a peer within a 360 campaign:
Peers will receive an invitation email to join the campaign, which includes basic campaign instructions.
The to-do list of actions to be performed appears in the Requests tab of the 360 Feedback menu. A notification bubble will display the number of requests that are still in progress.
In the course of a 360 Feedback campaign, peers are asked to answer surveys from one or more employees. The name of the employee for whom you are giving feedback will appear at the top of the page. The Share button at bottom of page locks the answers and gives access to the manager.
🎓
Access your training requests
💡Note : Training will only be available if your company has subscribed to this product.
In Elevo, your manager has the ability to make training requests for you. Whenever a training request is made, you are notified by email.
Your HR team will be able to review this request and make their decision. You will once again be notified by email when a decision has been reached.
You can access all your training requests by clicking on "Training" in the sidebar. They are also available via your profile.