This article is intended for administrators.
💡 What is an Admin?
An Admin has privileged rights on Elevo, which allow him to manage other users, maintenance review cycles, settings, etc...
Usually, the Admins are the HR of the company, sometimes also the BU Director and/or the CEO.
With the advanced administration rights management, you can give limited access rights to a sub-population of your company. This feature is called "Multi-level Admin" (MLA).
📍 When is it useful?
Here are some examples of situations that can be handled with this feature:
A member of the HR team manages the R&D department but not the Sales department
One member of the HR team manages all employees except the Executive Committee and CEO
A Business Unit Director wishes to manage and launch his review cycles within his entity
This way you can ensure that only authorized persons have access to content related to certain users (evaluations, objectives, feedback, etc.)
⚠️ Warning : The implementation of this option does not make 2 entities completely hermetic. For example, if you decide to launch a 360° feedback review cycle, employees from entity A can select employees from entity B as peers.
💻 What are the different roles?
The Organization Admins
As with all Elevo spaces, each organization Admin has visibility overall users in the space. They can:
Run review cycles on all users,
Access and modify all user information,
Create / Modify review templates,
Add new users.
Entities Admins
They can:
Launch review cycles only on the users they administer,
Access information only from the users they administer,
Create / Modify review templates
⚙️ How does it work?
Let's take a simple example: a company with a CEO, a Comex, and departments under each COMEX member.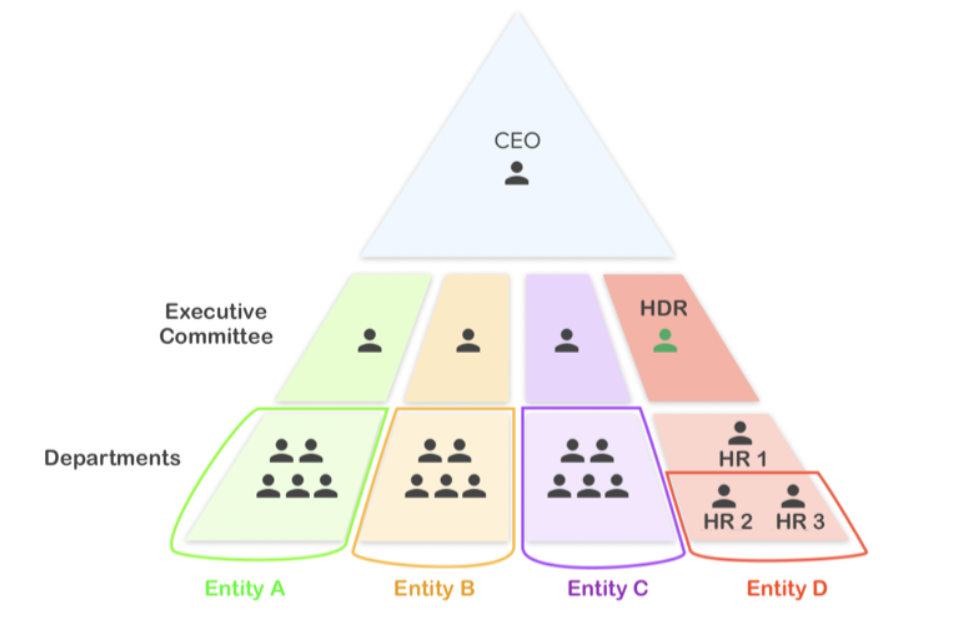 The Organization Admins
In this example, only the HRD is a organization Admin.
Entities and their Admins
Entities: To give rights by sub-population the first task is to distribute the users in Entities. Each user can be placed in one (and only one) entity without limitations related to its hierarchy.
The example above shows 4 examples of Entities (here they follow the hierarchies, but entities can be transversal).
Entities Admins: You can then assign administrative rights for each of the entities. Thus, you can have one or more users from your company (the admins) who will have the ability to manage/administer the users of one or more entities.
Example 1️⃣: Admin role assignment.
In this first example, each entity is managed by one of the HRs, the COMEX users, and the HRs are managed by the HRD.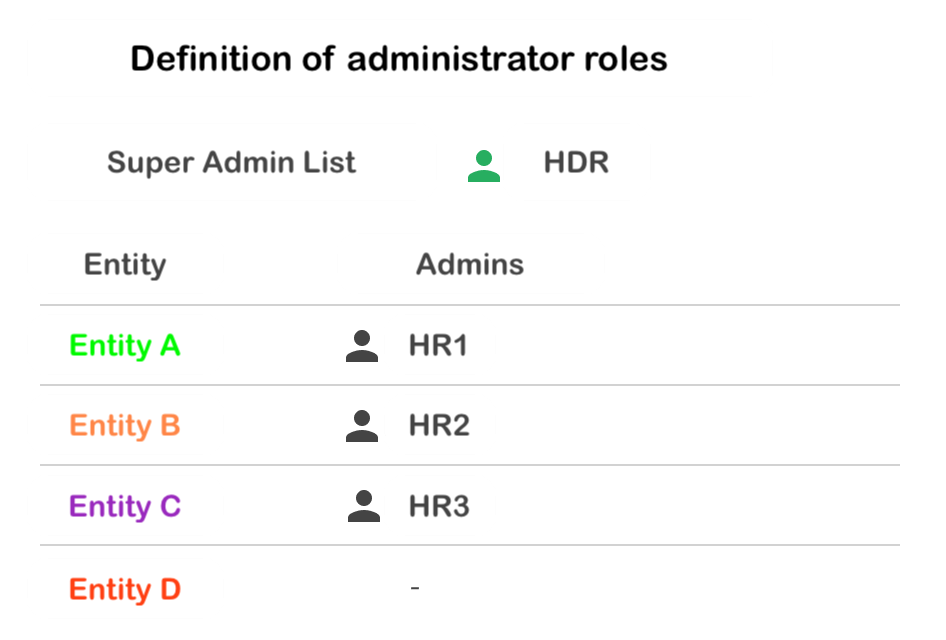 Example 2️⃣: Admin role assignment.
In this second example, HR1, who manages HR2 and HR3, also has access to the management of the entities administered by his team. The administration of COMEX and HR1 is reserved for the HRD.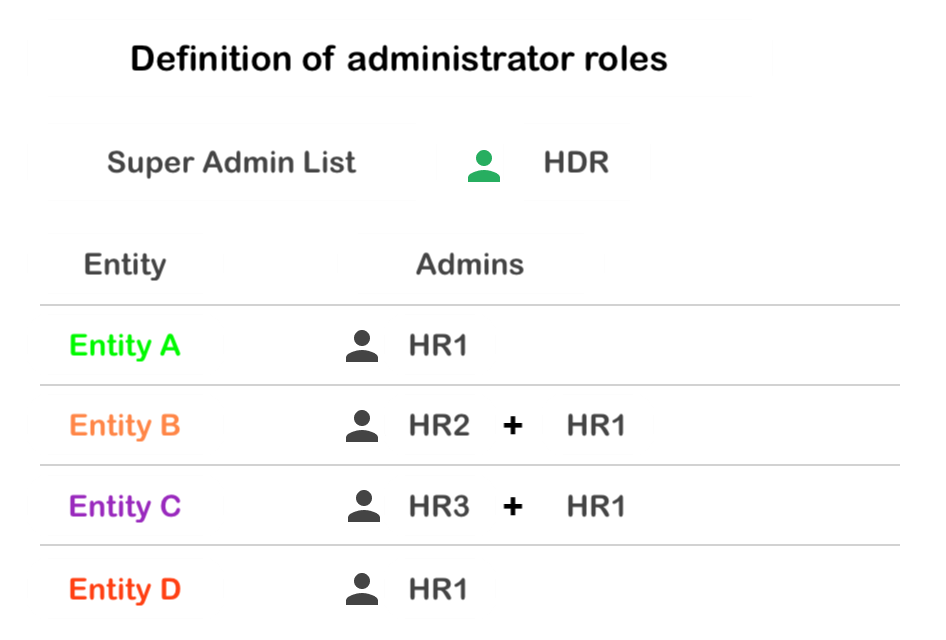 🎛 How to set it up?
We invite you to contact your Elevo expert or the Support who will redirect you to the person in charge of your account.
👩🏻‍🎓 How does this work for the Training product?
💡 Please note that the Training Product is an add-on product that must be activated on your space in order to be used. Contact your dedicated Customer Success to learn more.
Session management
They can only see requests from their administered entity's users and they can create sessions in order to link them to it.
They can add requests to an existing training session:

if the session has been create by a MLA in the same admin group (or the MLA themselves),
if the session has been created by an org admin.

They cannot add requests to a training session created by a MLA from another admin group.
They can only edit the sessions they have created (training details, training session planning).
Invite to a session
If they are the session creator, they can send invitation/cancellation to all the participants (even the ones they don't administer),
if they are not the session creator, they can only invite their administered users.
Participants visibility
Entities admins can only see participants that they administer,
They can edit the funding/approval status of their administered users only,
They can only remove participants they administer.
Deletion
They cannot delete a session, whether it be :
from the session itself, the button is not displayed.
from the session screen, the row menu is greyed out and non clickable.